When you think of ordering food online, what comes to your mind? When you see a boy wearing a red t-shirt on a bike, what comes to your mind? Zomato, am I right? of course yes. Zomato is India's one of largest Restaurant aggregators and food delivery company with a massive market share. But how Zomato became what it's today? it's all because of Zomato marketing strategy.
In this article, we are going to share marketing strategy of Zomato. It includes Zomato's digital as well as traditional marketing strategy. Before going into the depth of marketing strategies, let's first know about the company.
About Zomato
Zomato was started in 2008 as Foodiebay by Deepinder Goyal and Pankaj Chaddah. The company has a presence in more than 24+ countries with 14 lac+ restaurants listed on the website.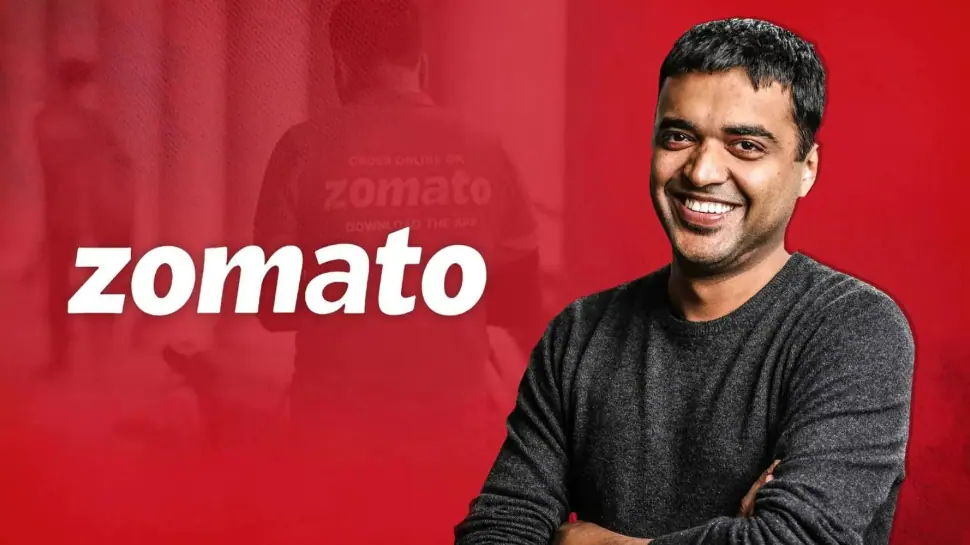 Zomato was a restaurant search platform where one can check menus, and post reviews & recommendations of any particular restaurant. Previously, everybody needs to stand in line for hours to get a meal. To solve this problem, Deepinder Goyal and Pankaj Chaddah launched Zomato in 2010.
In the last 12 years, the company has grown tremendously. Zomato's marketing strategy is the secret behind its massive success.
---
Zomato's Target Customers (Two Types of People)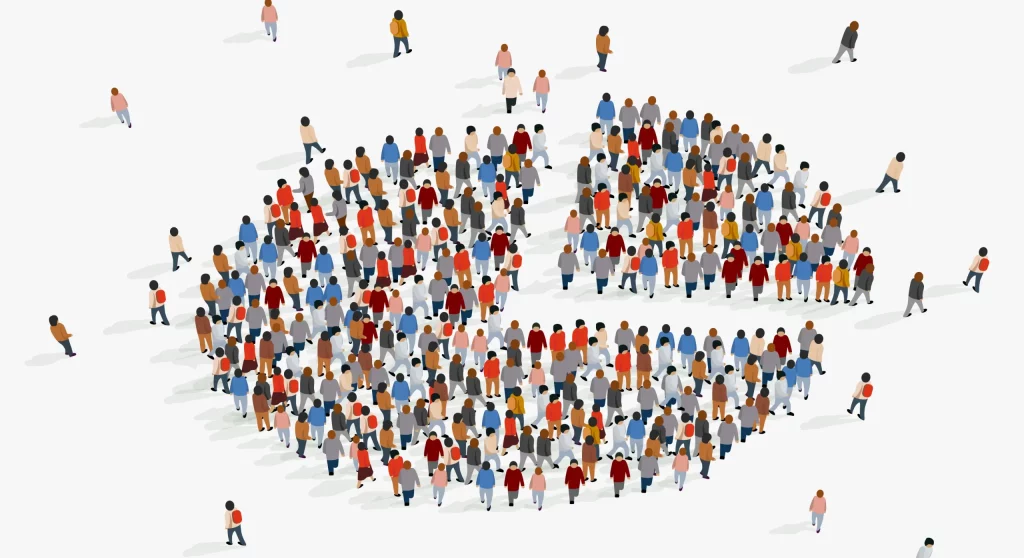 The target audience of Zomato is between the age group of 18-35. These people are tech-friendly and regular internet users. While planning marketing strategy, Zomato targets two groups of people,
1. People who want to order food online
These people are working professionals or students who don't want to go outside for food. This type of person just wants tasty food. They always look for a deal/offer on various other food delivery companies. They compare the prices of each company and then order food.
2. People who want to dine out in a restaurant
These people are mainly couples or families. They want to book a table for themselves in a good company. These people want a lovely experience in a restaurant + Tasty food. Zomato also offers gold memberships deals to this category of people.
---
Zomato Marketing Strategy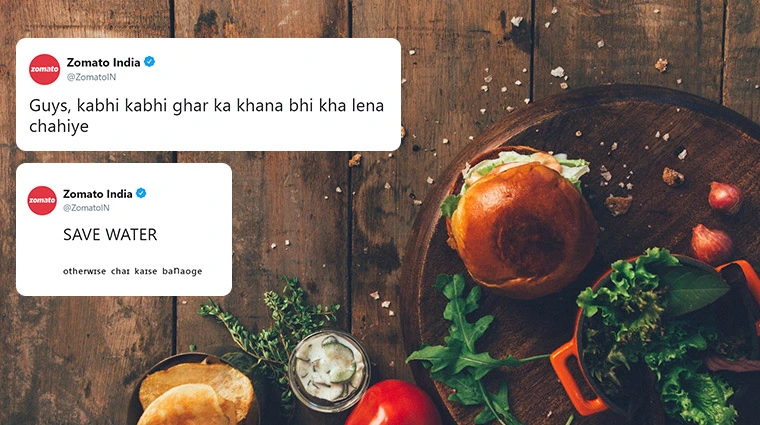 Now let's understand the marketing strategy of Zomato. We have listed all strategies the brand used in the last few years. Zomato has smartly used digital marketing strategies in its marketing. The brand follows an Omnichannel approach of marketing. Let's start with the digital marketing strategy of Zomato.
1) SEO Strategy of Zomato
Zomato follows a smart Search engine optimization strategy. The website has 99.51% of organic traffic. Consumers trust organic results more than paid results. This builds credibility among customers as well as it also saves the ad cost of the company. SEO is a low-cost, high-return marketing strategy of Zomato.
Traffic

Zomato gets an average monthly traffic of 20 million visitors per month. The average time spent by any visitor is 3 minute 28 seconds. 59% of its traffic comes from India. The majority of its visitors are between the age group of 25 to 34 years old.
Getting this large amount of free traffic from search engines is a great marketing strategy followed by Zomato. Any local business can also use this marketing strategy to get customers online at no cost.
Must Read – Digital Marketing for Small Business
Keywords
Zomato has around 7.7 million keywords ranking worldwide. The majority of its keywords are ranked in India which shows India is the largest market of Zomato.
The company has smartly placed its keywords in URLs and page titles. It also allows restaurant owners to create restaurant profiles. This is also a great strategy to increase the pages on a website. More pages leads to more keywords which ultimately increase visitors to a website.
Backlinks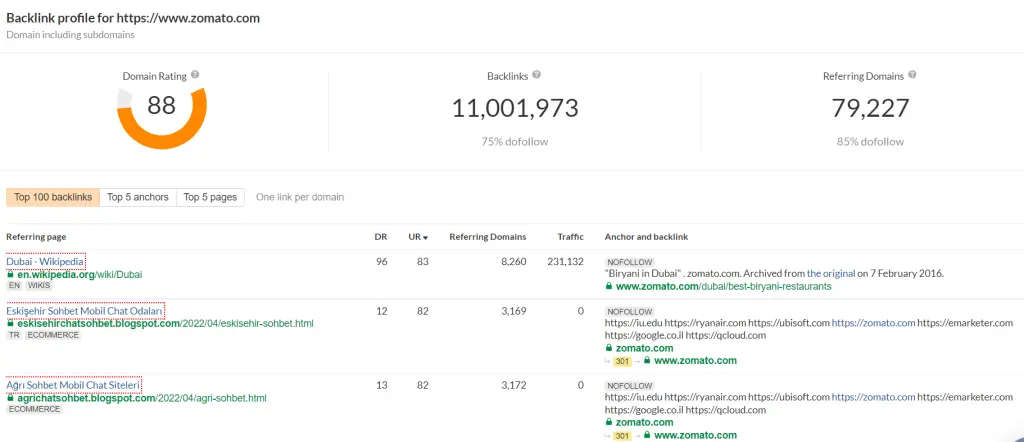 According to Ahrefs, Zomato is getting more than 10 million backlinks from 79,000 unique domains. It has a domain rating of 88 which is a very strong signal towards the authority of the domain. Many of its links comes from .org, .edu, and .gov domains.
Due to its high domain authority, now it easily gets ranked in search engines like Google and Bing. Getting high-quality backlinks and increasing domain authority are Zomato's smartest marketing strategies.
---
2) Social Media Marketing Strategy of Zomato
Social media is the heart of Zomato's marketing strategy. Every platform has a different type of audience. Zomato is present everywhere with its engaging content for every platform. If you are a social media user, you can't ignore Zomato. Its unique & innovative marketing strategies can attract anyone.
Moment Marketing Strategy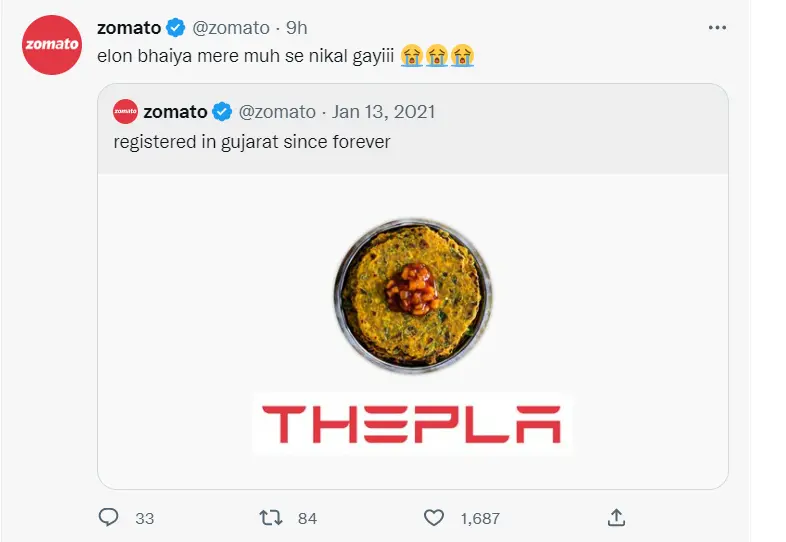 Zomato covers trending topics in different ways according to the platform audience. Here is an example of new trending news related to Parag Agarwal, ex-CEO of Twitter. Today, Elon Musk fired him after the takeover. See how Zomato used this topic for marketing purposes. These types of posts increase customer engagement.
Meme Marketing Strategy

As you can see in the above image, Zomato has openly mentioned its Instagram handle as a meme page. More than 90% of the Instagram posts of Zomato are memes.
Memes are a great way to build engagement with the audience. Another benefit is they easily go viral. Zomato is very innovative with there meme marketing strategy. They create new original memes that their audience can relate to.
Free Giveaway Marketing Strategy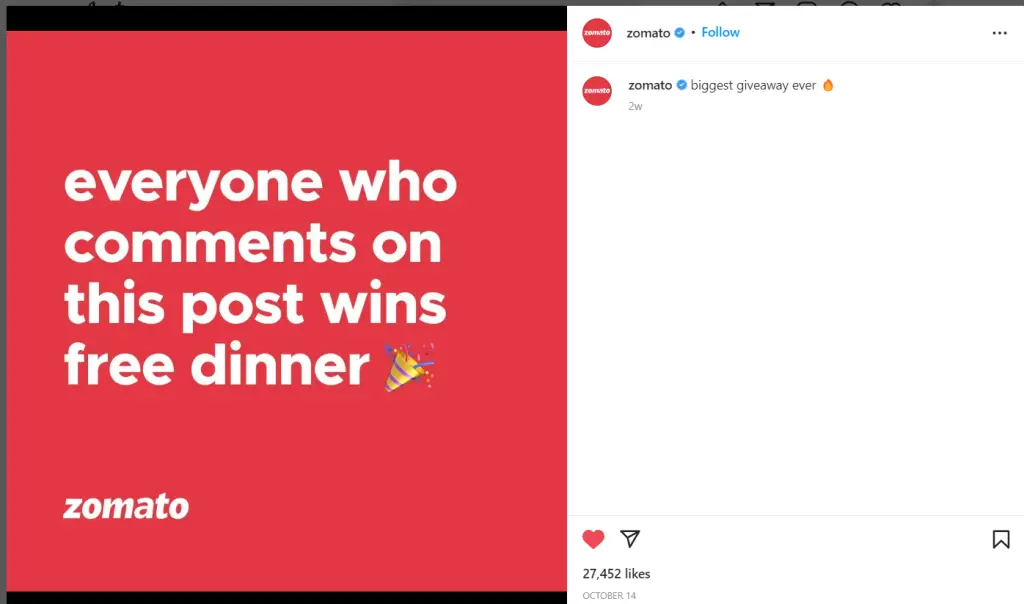 Just like popular YouTubers, Zomato also uses this free giveaway marketing strategy to increase engagement. They do this many times in a year. Everybody loves free tasty food. This is a great Zomato marketing strategy that costs a small amount of money but gives big results.
Comparison Marketing Strategy of Zomato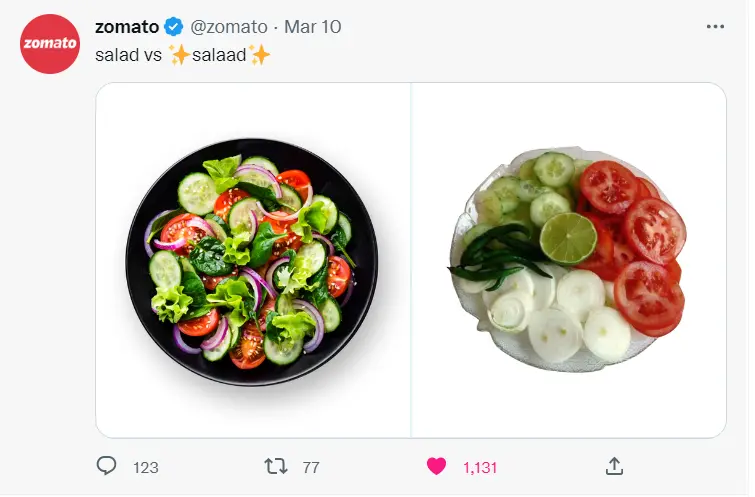 This is a popular marketing strategy used by Zomato where they compare the most common things in our everyday life. If you see in the above post, everybody can relate to it that's why it got more than 1000 likes on Twitter.
---
3) Paid Advertising
Zomato is a big company. They spend millions of dollars on paid advertising. To get hot leads, the company spends money on search ads and for branding, they run push marketing campaigns.
Search Ads Marketing Strategy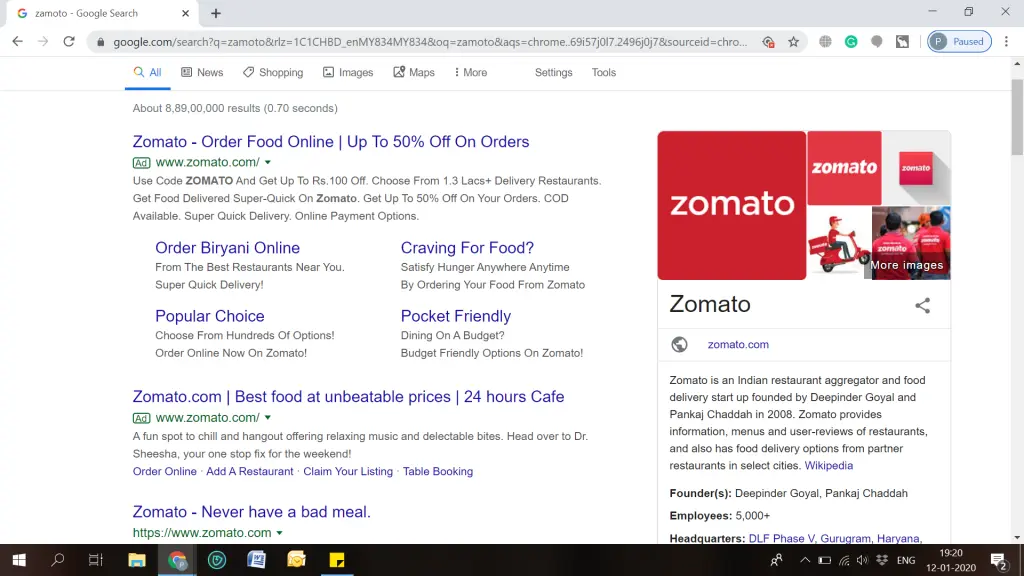 Google ads are the best type of ads to get hot leads. Zomato uses search ads for transactional queries like, "restaurant near me" and "best north Indian restaurant in Delhi". These type of queries has higher chances of conversion. Search ad marketing is a very small part of Zomato's paid marketing strategy.
Display Ads Marketing Strategy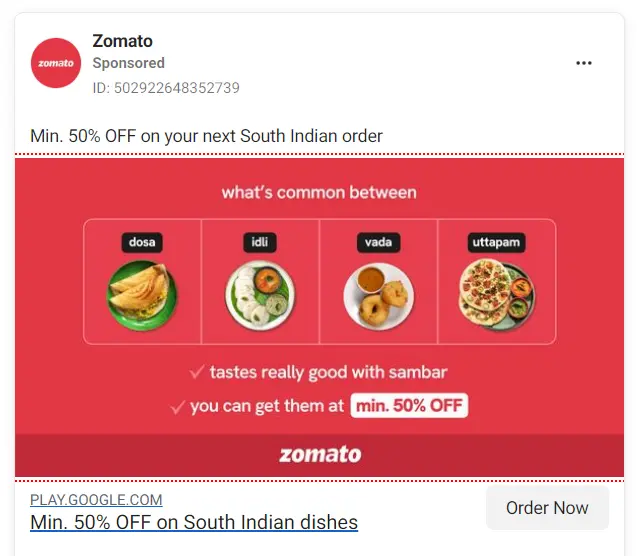 Zomato runs multiple display ad campaigns on various platforms like Facebook, Instagram, and Google. Display ads are an important part of their marketing strategy because they cost less and convert well. Their Facebook ad copies are so convincing that it converts a cold lead into a paying customer.
---
Zomato Video Ads Marketing Strategy
Zomato spends millions on video marketing. If you are a regular YouTube user, there is a strong possibility that you have seen the Zomato bumper ad at least once. These are 5 to 10 seconds ads used for branding.
They have also featured popular movie stars in their ad campaigns. Hrithik Roshan, Katrina Kaif and Allu Arjun are the brand ambassadors of Zomato.
3 Smart Marketing Strategies of Zomato
1) Double Meaning Ads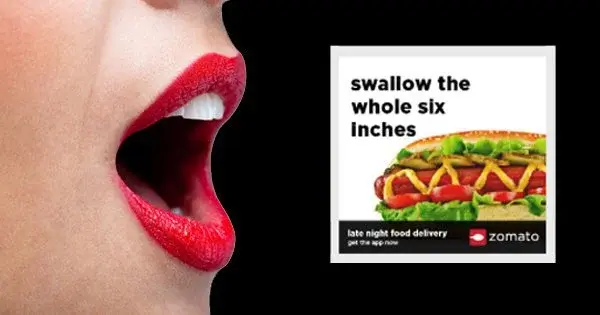 Zomato has smartly placed these ads on dirty websites. According to them, a customer gets hungry when they watch these types of videos. Getting in front of these hungry customers can be a big advantage to the company. This is a smart marketing strategy used by Zomato.
2) Boy on Bike with Red T-shirt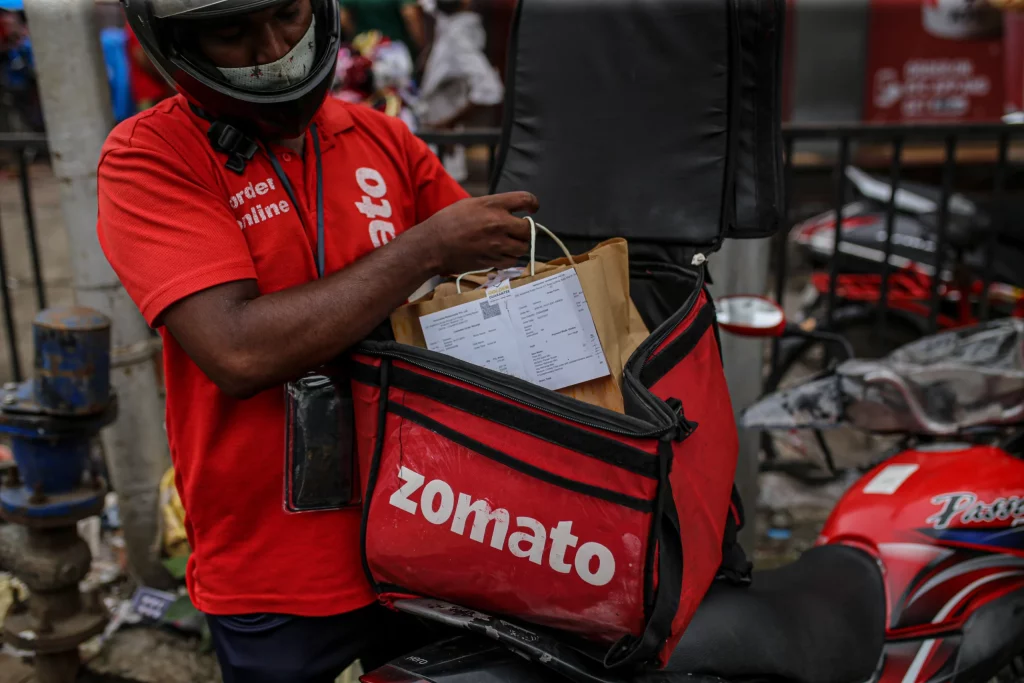 This can be an indirect marketing strategy used by Zomato. When we see around us, we just see delivery boys wearing red t-shirt. Red is the most attractive color. Choosing red as a brand color is a great Zomato's marketing strategy.
3) Engaging Email & Notifications Marketing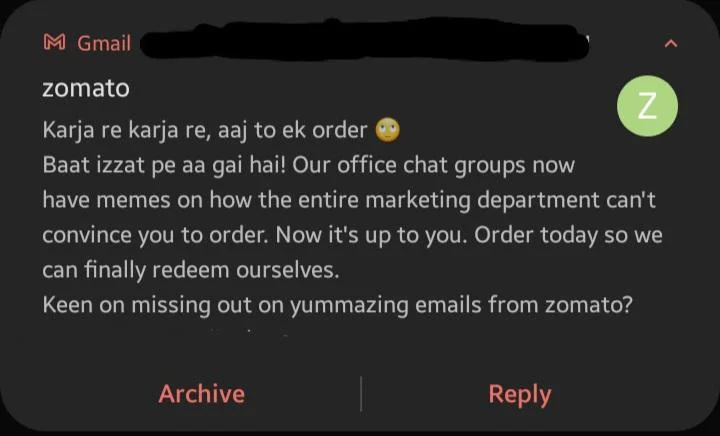 Zomato sends this type of engaging email and notifications to users. The above email clearly shows the genius email marketing strategy of Zomato. In the mobile phone, the application tracks the user behavior and send notifications according to that. This kind of marketing cost almost no money but it requires a lot of creativity and guts to think & act out of the box.
---
Popular Ad Campaigns of Zomato
1) Mann kiya, Zomato kiya

This is a popular ad campaign by Zomato featuring Hrithik Roshan. The marketing message of this ad is to make customer order food when they want not when they need.
2) Har Customer Hai Star!

This is also a successful marketing campaign of Zomato featuring Hrithik Roshan. The marketing message of this ad is, Zomato value there every customer whether it's a big movie star or not.
3) Zomato's Love Expressed Ad

This is a very emotional ad campaign. It got lots of views and like on social media platforms. The marketing message of this ad is, share your emotions with Zomato's delivered tasty food.
What's Special in Zomato's Marketing Strategy?
Zomato is a top food delivery brand. Whenever we think of ordering food online, the first name that comes to mind is Zomato. They have been in the food delivery space for more than a decade now.
Think Out of the Box
The marketing team of Zomato always thinks out of the box. They are not afraid of implementing new strategies in the market. Many of their strategies had failed, and only a few succeed but that made Zomato a success.
First Mover Advantage
Zomato & Swiggy are the two food delivery giants in India. Zomato was started in 2008. They have created a food delivery space in India. Swiggy was started in 2014 so Zomato got the first-mover advantage. Many people think of Zomato as an Indian company and Swiggy is as an outsider. This first mover thing had helped a lot in Zomato's success.
Adapt to the New Changes
In April 2021, Zepto came into the market within 10 min. delivery service. Zomato adopted this change and now they also started offering 10 min. delivery service in a few cities.
---
Wrapping Up
In this article, we have shared Zomato's marketing strategy. You can also get inspiration from these marketing strategies used by Zomato. Zomato is a large company but they are creative too. The whole marketing team of Zomato works day & night to create winning marketing strategies. If you want to learn strategies like Zomato join our 4-month Digital Marketing Course in Jaipur.
---
Frequently Asked Questions
What is the best marketing strategy of Zomato?
The best marketing strategy of Zomato is posting memes on social media platforms. The whole India is a fan of Zomato memes. They are very creative & realistic to the audience.
How Zomato makes money?
Zomato makes money by charging a commission from the restaurant owners. They also have a gold & silver subscription plan but the major revenue comes from restaurant owners.
How can we apply the marketing strategies of Zomato in our business?
You can take inspiration from the social media strategy of Zomato. Initially, you might not be able to create a creative post like Zomato but you need to keep going. You can also start SEO of your website. Zomato has done a great job with its SEO. You can check their website.
Who is the founder of Zomato?
Deepinder Goyal and Pankaj Chaddah are the founders of Zomato. They started this company in 2008 with the name of foodieBay which later turned into Zomato.
Who plans marketing strategies for Zomato?
Zomato has an in-house team of marketing professionals, copywriters,s and creative designers. They plan & execute marketing strategies at Zomato.