Make Money Even While You Sleep. Become a Professional Blogger.
Learn the money-making blogging secrets by joining our blogging mastery course. This course is specially designed for beginners and struggling bloggers.
You will learn everything from scratch – from starting your first blog to getting real visitors from Google. This also includes SEO training which will help you rank your website fast on Google.
---
What is Blogging?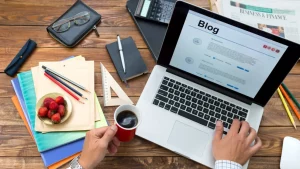 Creating and publishing textual content on a website(or blog) is known as Blogging. Blogs are generally written to answer someone's query or solve some problem that your reader might be facing. Many people start this as a hobby but make it a profession with time.
Blogging is also a great way to be found online. Businesses use this in their content marketing strategy which helps them gain the trust of there audience and ultimately increases sales & revenue.
Our Blogging Course Curriculum
Module 1: Setting Up Your Blog
Choose a perfect Domain name for your blog & select a hosting provider.
Connect domain & hosting and install WordPress.
Design a logo and install a perfect theme for your blog.
Module 2: Content Production
Create mindmap for topic ideas.
Do keyword research and shortlist profitable keywords.
Start writing blog posts.
Expert proofreading and publishing.
Module 3: Content Promotion & Monetization
Creating a solid off-page SEO strategy.
Share posts on social media to drive traffic.
Start collecting the email addresses of readers.
Monetization strategies (Google Adsense, Affiliate marketing, paid email subscribers, sponsored posts, etc.)
Module 4: Advance Level Blogging Techniques
Follow the best SEO practices as mentioned in Google Guidelines.
Update the old content for better user experience & search engine visibility.
Repurpose your content in other formats like videos, podcasts, PDFs, etc.
About Your Blogging Mentor
Mr. Parmveer Singh Sandhu is the wizard of business blogging. He had instructed hundreds of students in starting & scaling a blog to 6 figures. He personally owns many blogs with millions of collective visitors every month.
Join Quibus to Become a Blogging Expert
At Quibus, we offer a 4 month digital marketing course in Jaipur. This course covers more than 30 modules. Blogging is one of the most important modules of the course.
If you wish to learn blogging then you can enroll in our "all in one" mastery course. At Quibus, we believe in practical implementation so during the course you will practically create your own website and also learn how to real visitors from Google.
Duration and Fees
Duration: 4 months
Fees: Call 8502-002-002 or fill contact form with appropriate details for getting answers related to Duration, Timings, Fees, Methodology, Certification… etc.
Kindly visit FAQs Page where we've listed mostly asked questions.