Generate More Leads and Close More Sales.
Learn the proven lead-generation techniques which work in the now. Customers are getting smarter nowadays that's why we need smart marketers. In this course, you will learn everything from setting up a lead generation campaign to getting your first 100 leads.
---
What is Lead Generation?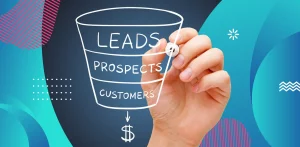 Finding prospects who might be interested in your product or services is known as lead generation. There are many ways to generate leads like email marketing, content marketing, social media marketing, SEO, and paid advertising. The goal of a lead generation campaign is to get a list of potential customers who will be contacted for the further sales process.
Lead generation is important for every business because it opens the door of new customers which helps in sales and revenue growth.
Our Lead Generation Course Curriculum
Module 1: Business Goals Identification
Write down your month, quarter, and yearly business goals.
Calculate how many Sales you need to achieve that goal.
Learn how to create a successful strategy to achieve that goal.
Module 2: Customers Understanding
Learn about your customers – demographics, income.
Discover their pain points and develop a strategy to solve them.
customer profile creation
Module 3: Competitor Research
Spy your competitor's lead generation strategy
Check what lead magnets people are using & their results
Module 4: Start a Lead Generation Ad Campaign
Create a meta ad campaign for lead generation.
Learn Ad Budget allocation.
Magnetic copywriting techniques
Ad Testing phase with various lead magnets.
Campaign Scaling phase
About Your Mentor
Mr. Parmveer Singh Sandhu is a digital marketing expert with 10+ years of experience. He had generated leads of multiple million dollars for his clients. He will not just teach you lead generation but also how to convert those leads into real customers.
Join Quibus to Become a Lead Generation Expert
At Quibus, we offer a 4-month digital marketing course in Jaipur. This course covers more than 30 modules. Lead Generation is one of the most important modules of the course.
If you wish to learn lead generation then you can enroll in our "all in one" mastery course. At Quibus, we believe in practical implementation so during the course you will practically create a lead generation campaign and spend real money for testing & learning purposes.
Duration and Fees
Fees: Call 8502-002-002 or
For getting answers related to Duration, Timings, Fees, Methodology, Certification… etc. Kindly visit our FAQs Page where we've listed mostly asked questions.