Master Google Search Console to Take Data-Driven Decisions For Your Website Growth.
Do you run a website or are planning to start one soon?
Do you want to know how you can monitor and maintain it for communicating with google?
Google provides a free service called Google search console which can help you in examining your site and even improving its performance.
---
What is Google Search Console?
Google Search Console is a free service offered by google specially for webmasters (one who runs a website). It is a powerful toolset that can help anyone with a website to get useful insights for SEO purposes.
Though it doesn't affect SEO directly, it only helps you to identify issues and loopholes on you website which you can rectify. It helps in making a site more usable, user-friendly and generates reports which aid in improving site's performance.
---
Who can use Google Search Console?
Anybody who owns a website and wants to track and improve its performance can use Google search console Tool.
Entrepreneurs
Marketers
Developers
Bloggers
Individuals
---
Benefits of Using Google Search Console
GSC is a great free tool provided by Google which is very beneficial for website optimization. Let's look into the benefits you'll get after using console tool.
Clicks and impressions your websites got in google
Identify links coming to your site(backlinks)
Identify keywords for which your website is triggered
Warnings and notifications- can inform about a malware attack, malicious links
Helps you find broken links on your site
Allows you to submit sitemap to google
Identify bot crawling issues
Helps submit robots.txt to google
Allows you to geographically target your site
Find top landing pages
Helps de-index a page
Analyze mobile site performance …and more.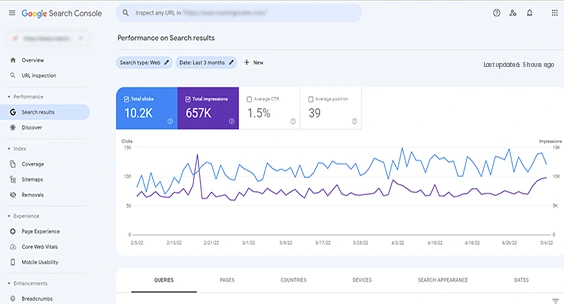 ---
What will you learn from this course?
Understanding Google Webmaster guidelines
Setting up a Google Search Console account
Adding your website
Verifying account
Linking console with analytics
Using the features
Measuring insights
Optimizing the website
---
We have provided the course outline to you and there is a lot more to discover in Google search console. To learn more about Google search console join our Digital Marketing Course in Jaipur. After finishing this course you will be able to successfully monitor and optimize your website through Google search console
---
Duration and Fees
Duration : 4 months
Fees : Call 8502-002-002 or fill contact form with appropriate details
For getting answers related to Duration, Timings, Fees, Methodology, Certification… etc., Kindly visit FAQs Page where we've listed mostly asked questions.