Video is the Future. Get Paid for Creating Videos!
Ask yourself how many hours you spend each day watching videos. No one loves to read text. We all are fond of videos.
If you want to learn how to make real money just by creating videos then join our 4-month digital marketing mastery course.
---
What is Video Marketing?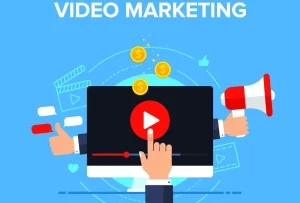 Creating videos to market products or services is known as video marketing. If you have seen Quibus Trainings video ads on YouTube or Facebook, that's also a type of video marketing.
Marketers have been using video marketing for years. The first-ever video ad was created in July 1941. It was a 9-second ad for a popular watch brand.
Types of Videos Used for Marketing Purposes
1) Product Demonstrations
You can see these types of videos on eCommerce websites like Amazon and Flipkart. These are explanatory videos that brands create to demonstrate the features & design of their products.
2) Customer Testimonials
These are video reviews taken from customers which work as a trustworthy element. These can be generally seen on Business websites.
3) Educational or Instructional Videos
These are how-to videos created for the purpose of education. The majority of the videos on YouTube are educational videos.
4) Brand Videos
Videos created for the purpose of explaining the Brand or company profile are known as brand videos.
Why You Should Learn Video Marketing Skills in 2023?
Make Money as a YouTuber
Convert More Sales Through Videos
Get Paid for Creating Videos for Brands
Fast & Easy Way to Get Famous
Get Camera Confidence
Join Quibus For Video Marketing Training
At Quibus, we offer a 4 month digital marketing course in Jaipur. This course covers more than 30 modules. Video Marketing is one of the most important modules of the course.
If you want to learn video marketing then you can enroll in our "all in one" mastery course. At Quibus, we believe in practical implementation so during the course you will practically learn creating videos. This will also boost your camera confidence.
Duration and Fees
Duration: 4 months
Fees: Call 8502-002-002 or fill contact form with appropriate details for getting answers related to Duration, Timings, Fees, Methodology, Certification… etc.
Kindly visit FAQs Page where we've listed mostly asked questions.