The main purpose of Content Marketing is to attract and retain customers by creating compelling and effective content consistently, with the aim of getting the desired customer action. It is the art of delivering useful information to your customers in a smart way.
While consistently creating and publishing new content is essential, you also need to market it across platforms. What is the use of writing content when nobody sees it? If you don't have an established audience base, your content marketing strategy is likely to fall flat on the face.
According to CMI, " 69% marketers are creating more content now than they did one year ago. "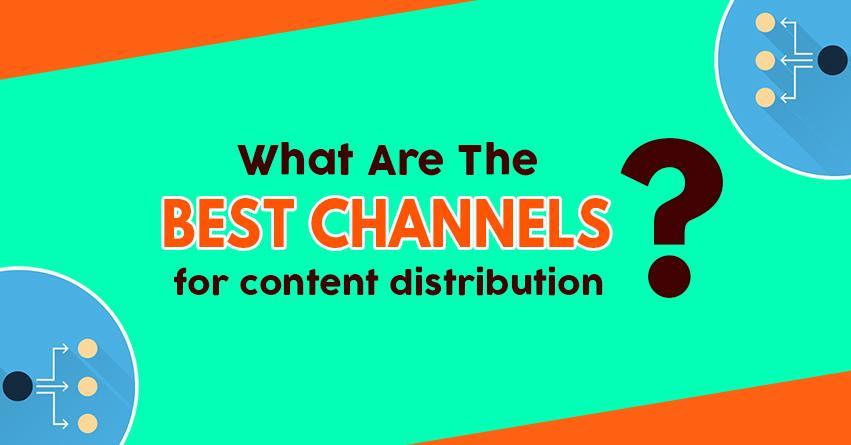 If you want to increase your brand's visibility and grow your content's reach, you must distribute your content on a variety of platforms. If you are clueless about where to begin, we are sharing a list of 10 extremely important content distribution channels you must use. Time to up the ante!
1. Guest Posting
There are many websites which offer the facility of posting content as a guest. Sites like Shoutmeloud.com, Daily Blog Tips and many more. As many people use this technique for spamming, you need to think wisely before choosing a legit site.
You can even place a request to publish content on well-established blogs.
This is a great way of increasing readership and connecting with the blogging community.
You Must Read: Matt Cutts – Guest Blogging is Dead. Truth Behind it. An Investigation
2. Social Bookmarking Sites
A great way of sharing content with communities, social bookmarking is a service that helps users to create and share bookmarks online. The users can save website links and can even share them with others in their community.
Sites like StumbleUpon, Digg, Pinterest, Delicious, Google+ can help you with the purpose.
3. Email Newsletter
Nothing beats content sharing done through email newsletters. This is the sure-shot way to reach your existing customers. Regularly distribute worthwhile content straight to your customer's mailbox. It is the most direct channel of reach your audience and you must add email marketing to your content distribution strategy.
4. Discussion Forum
Become a reliable source of information on message boards by consistently posting content that educate and informs the audience. Most people resort to discussion forums for decision-making purpose as well as for taking expert-advice.
Sites like Yahoo Answers, Digital Point Forums, Answers, LinkedIn Answer will help you.
5. Document Sharing Sites
For businesses who produce regular content in various formats like presentations and documents, can leverage file sharing sites like SlideShare and Scribd. SlideShare alone has 70 million users who share and access content on wide range of subjects. Follow the link for Best Document Sharing Sites.
6. Content Syndication Sites
Syndication is a process where you can publish your content on sites (like Social Media Today , MyVenturePad) which produces original and curated content. You can either manually post your content or even submit your RSS feed to them where each post is reviewed.
7. Social Networking Sites
You can distribute your content on a host of social media platforms like Facebook, Google+, LinkedIn which also offer you options of sharing in dedicated groups. Is the best way to Increase your reach and readership.
8. Question and Answer Sites
Sites like Quora and Yahoo Answers are beneficial for sharing helpful content like guides and 'How To' as people here generally post questions regarding doubts, problems and learning purposes.
9. Podcast Hosting Sites
"Podcast is a low-hanging fruit for marketers". If your content marketing strategy includes podcasting, there are a number of popular hosting sites you can look for, like SoundCloud and Archive.
10.Video Hosting Sites
Make use of popular video hosting/sharing sites like Youtube and Vimeo for distributing content online. Share video tutorials, guides and more with millions of users who you were unable to target before.
These were the top 10 channels you can use for content distribution online as a part of your content marketing strategy. Increase your brand visibility by taking advantage of these platforms which are almost free of cost.
Tell us which channels do you use for your content marketing strategy and share this article on Facebook, Google+, LinkedIn and in your communities to educate others.
To learn more about the best channels for content distribution, you can also join our Digital marketing course in Jaipur.
Best Digital Marketing Certifications-2022
How to Write a Blog Post that Google would Love to Rank High (ppt)