Amul needs no introduction. It is an Indian and very successful dairy products brand. I am sure, if you check now, you will definitely find an Amul product in your home. All love Amul, trust Amul, and use Amul but how did this happen? How Amul became what it's today? it's because of the marketing strategy of Amul.
Amul was started decades ago but then also it successfully maintained its brand image just like before. There is a genius marketing strategy followed by Amul. You will learn about this strategy in this article. Before moving towards the marketing strategies, let's know about the company.
Bonus Read: Jio Marketing Strategy
About Amul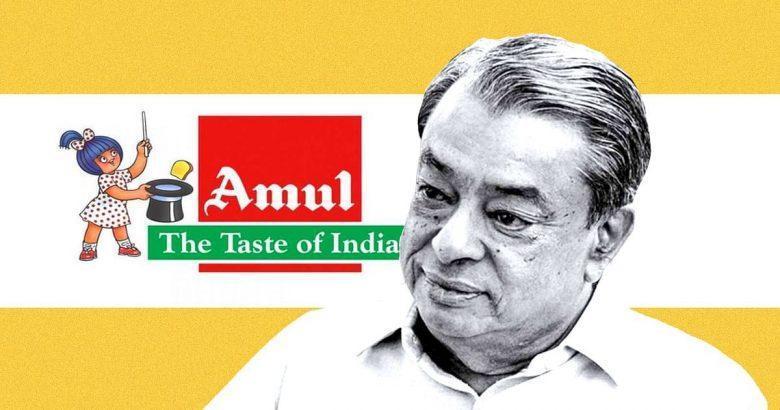 Amul is derived from Anand Milk Union Limited. It was started by Dr. Verghese Kurein in 1946. Dr. Verghese is popularly known as the Milkman of India. The special thing about Amul is, it is not a private or public company. It is a cooperative society that started to provide justice to farmers in 1946.
At that time, there was a middleman in cities who offers a very less amount of money in exchange for milk. To solve this problem, Dr. Verghese started Amul with the cooperation of other farmers. Now there are no middlemen in Amul. Milk producers (farmers) sell products that offer them a good amount of money.
---
Amul Business Model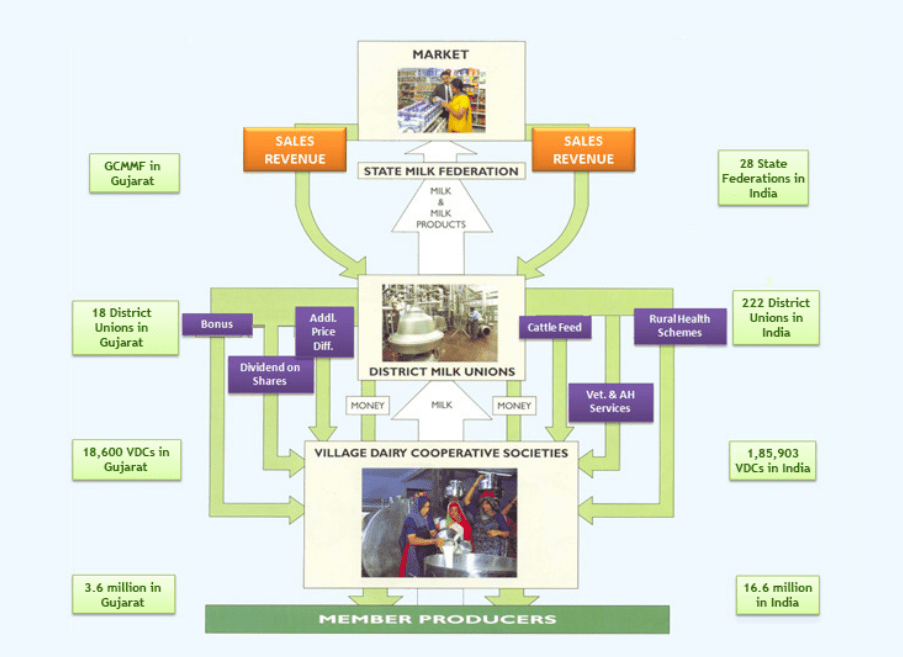 Amul has 5 pillars in its business model. It is a "for the people" company. There is no single owner of Amul, all villagers manage Amul Cooperative society. Here are the 5 pillars of the business model.
Milk Producers
Village dairy cooperation
District Milk cooperation union
State cooperative milk marketing federation
The Consumer
The profit share of the products is distributed as shown in the above chart.
Must Read: Zomato Marketing Strategy
---
Amul Target Customer (Two Segments)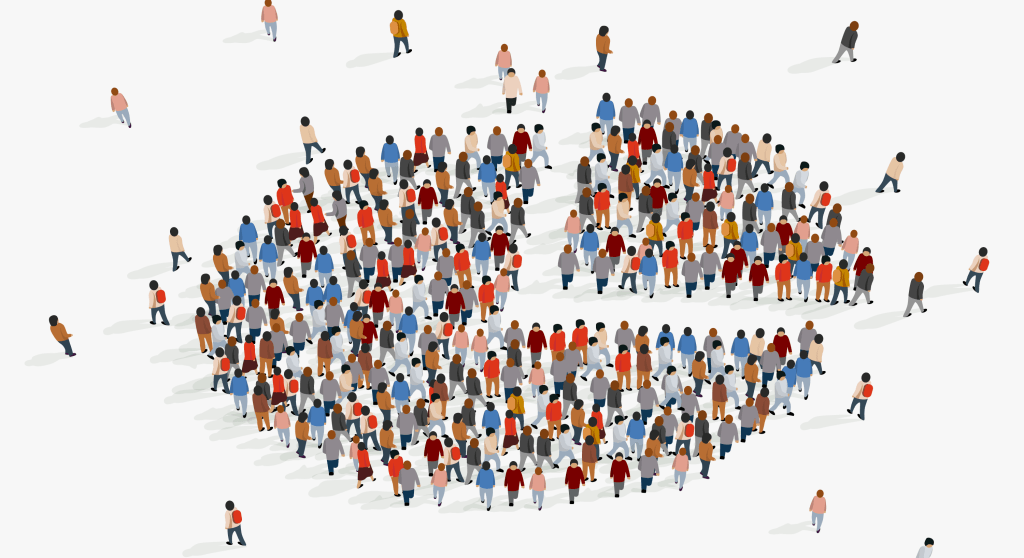 Amul targets those customers who need a good quality product at an affordable cost. The brand creates products for everybody that's why we have divided its target audience into two segments. Amul smartly plans marketing strategies for both of these audiences.
Business to Consumers (B2C)
Amul created products for every age group based on their interests and choices. Here are the names of a few products.
| | |
| --- | --- |
| Kids | Amul milk, chocolate, Amul Kool, Nutramul |
| Youth | Amul Pizza, Amul cheese spread, Amul Pizza Cheese |
| Health Conscious | Amul lite butter, Nutramul, Amul Shakti, Sugar/skimmed milk powder |
Business to Business (B2B)
In T.V. advertisements, we generally see Amul focusing on the B2C market. But in reality, the brand has a special interest in the B2B category. B2B category people buy products in bulk and are regular customers that's why they are very important for the company.
| | |
| --- | --- |
| Milk | Restaurants, Ice cream manufacturers, Tea & coffee cafes, and local food stalls |
| Butter, Ghee, Cheese, Paneer | Restaurants, Bakeries, Food stalls, etc. |
---
Amul's Marketing Strategy
Amul's unique and innovative marketing strategies differentiate it from other dairy brands. There is no single dairy products company in India, we have many. Amul dominated this competitive market with its smart marketing campaigns. Let's know about each campaign in detail.
---
1) Amul's Ad Girl Marketing Strategy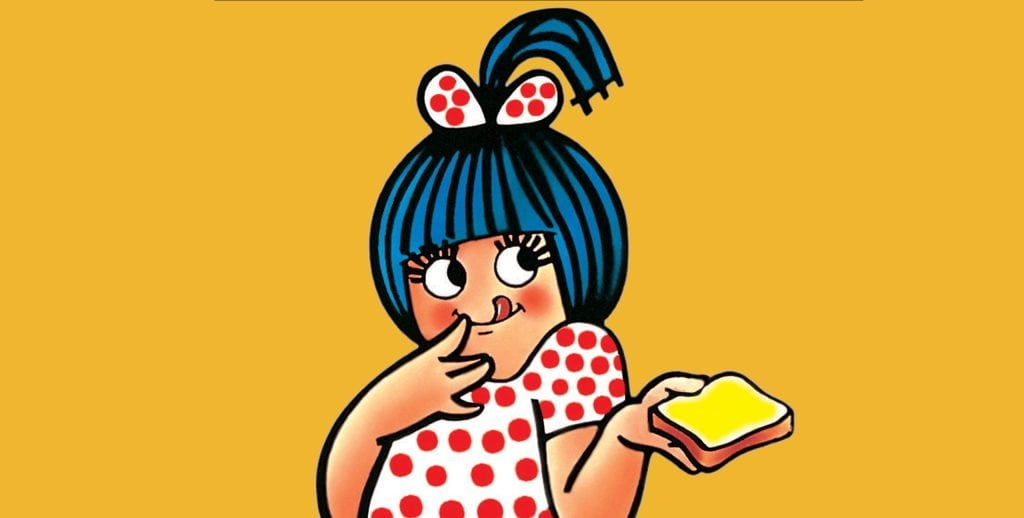 This is a handmade drawing of a girl which Amul created in 1967 in response to its rival brand. It is the most loved ad icon in India. Amul uses this girl in every ad. The activities of this girl change according to the ads.
You can see her doing Yoga in some ads, whereas playing cricket in others. Using this girl as an ad icon is Amul's best marketing strategy so far.
---
2) Moment Marketing Strategy of Amul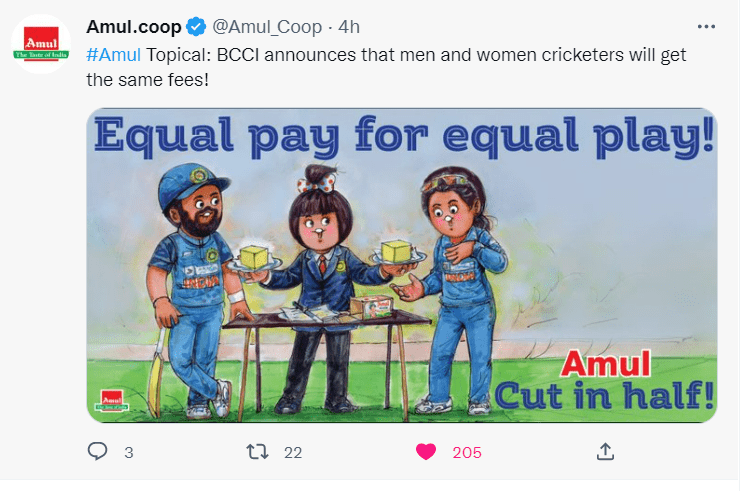 Amul is using this moment marketing strategy for decades now. Previously, it was in newspapers and now it is on popular social media platforms like Twitter. As you can see in the above image, Amul used this latest news of equal pay for both men & women cricketers. See how smartly, the brand used this news for its marketing purpose. This is the innovative marketing strategy of Amul.
---
3) Low-Cost, High-Value Marketing Strategy
Amul targets the mass market. It sells quality products at a reasonable price that everybody can afford. This increase the repeat customers of Amul. It is a simple but effective marketing strategy of Amul. Delivering high-quality products at low cost is also a great competitive advantage of Amul.
---
4) Smart Tagline Marketing Strategy
Amul's popular taglines, are "Amul Doodh pita hai India" and "The Taste of India". These taglines subconsciously attract the audience and capture the mind space of consumers. Creating jingles and taglines costs no money but some creativity and psychological understanding of your consumers.
---
5) Sell all Products Under one Brand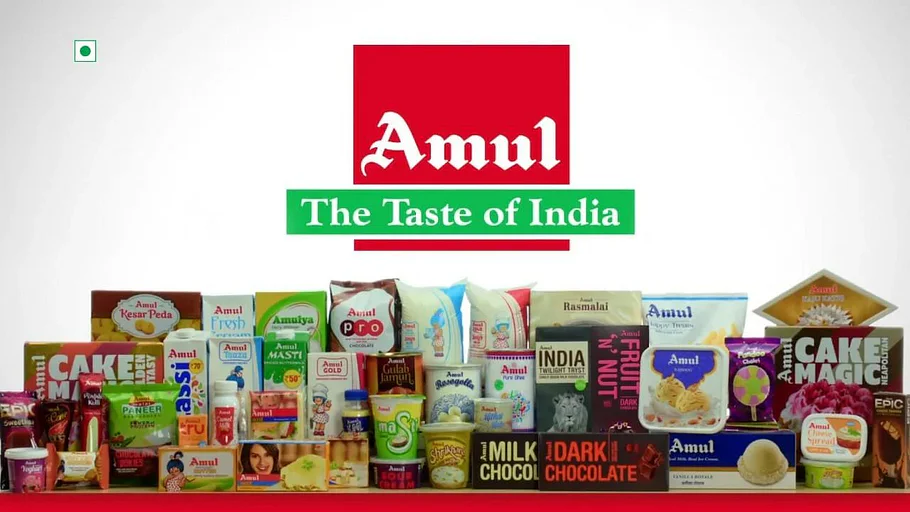 Generally, FMCG companies sell products under different brand names. Amul did this differently. They created one flagship brand (Amul) and started selling various products under that brand. Whenever Amul launches a new product, it sold out effortlessly because of its brand value. This is another great marketing strategy of Amul where it thought and acted out of the box.
---
6) Digital Marketing Strategy of Amul
Digital marketing is much cheaper than traditional marketing. Amul sees this opportunity and after going digital, their profit margins have increased tremendously. Let's understand the digital marketing strategy of Amul in detail.
SEO Strategy of Amul

Amul follows a smart SEO strategy. According to SEMrush, their website gets more than 960,000 visitors per month. Most of its traffic comes from branded queries.
As you can see in the above image, the domain authority of the Amul website is 59. Whenever Amul publishes a new page, it easily gets ranked on Google due to its high authority. This is a good marketing strategy of Amul which helps in getting the right audience from Google.
---
Social Media Marketing Strategy of Amul
Followers on these social media platforms show Amul follows innovative and highly engaging marketing strategies to attract the audience. Otherwise, it is very difficult to attract someone in this noisy world where we have more content than needed.
| | |
| --- | --- |
| Facebook | 2,057,998 Followers |
| Instagram | 407,532 Followers |
| Twitter | 357,450 Followers |
| YouTube | 489,000 Subscribers |
FACEBOOK ADS MARKETING STRATEGY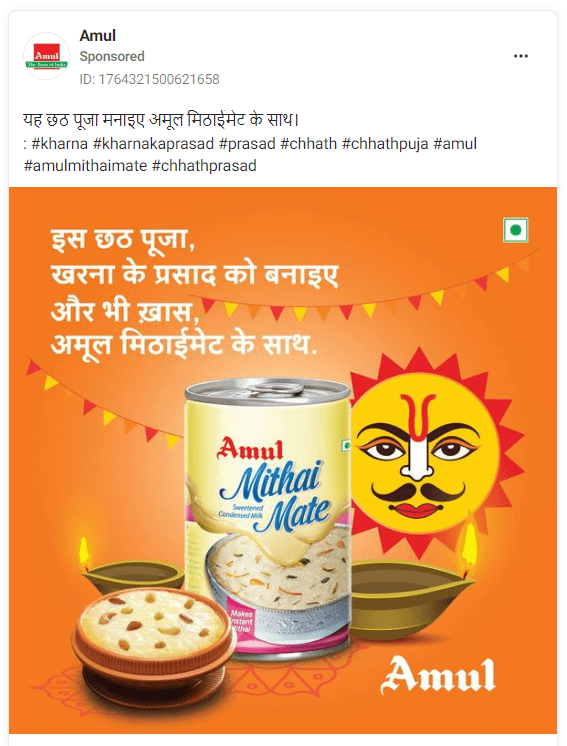 As you can see in the above image, Amul creates a brand awareness of its new products through social media paid ads. After a few days, there is a festival in India called Chhath Puja. Amul linked that festival with their new product. This is an awesome marketing strategy of Amul. Every social media marketer must learn from it.
To check the latest Facebook ads of Amul, you can visit the Facebook ad library.
---
TWITTER MARKETING STRATEGY OF AMUL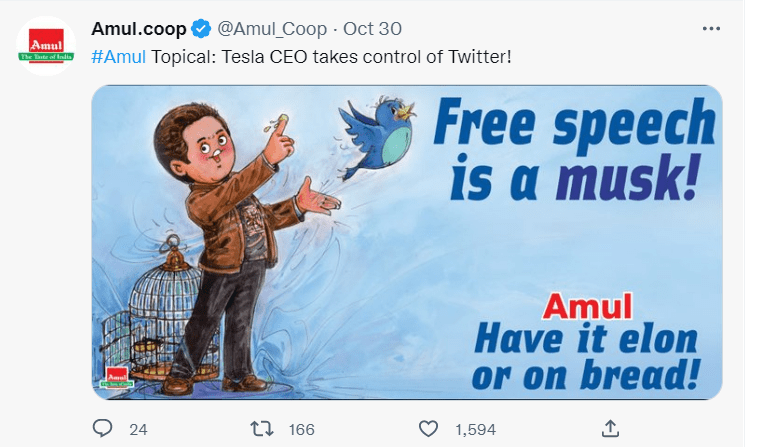 Amul generally uses moment marketing to capture the audience's attention. You can see, the above post got more than 1000 likes in just 1 day. In India, people are in love with Amul's cartoon marketing. After Amul, new tech brands like Zomato also started using the strategy to gain attention. Many times Amul's tweets go viral so this is a free marketing strategy of Amul to reach a larger audience.
---
YOUTUBE MARKETING STRATEGY OF AMUL

Amul has more than 4 lac subscribers on YouTube. Amul follows a good content marketing strategy on YouTube. They started a trend during Covid-19 #SimpleHomemadeRecipes which is still running. More than 3000 videos are uploaded on YouTube of these series.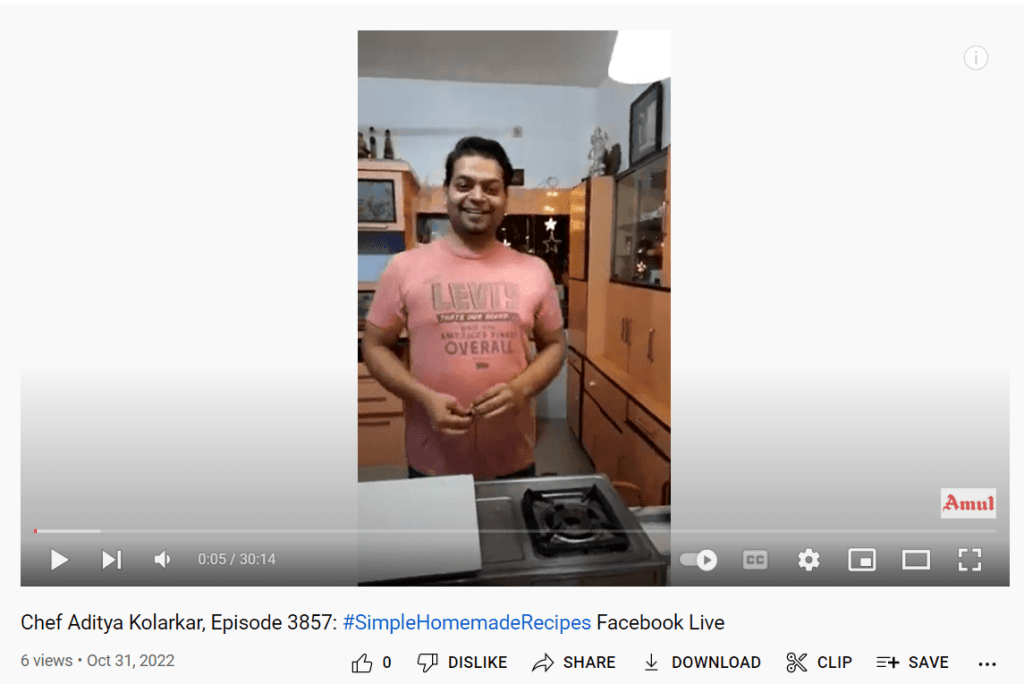 Professional chefs shoot these videos and Amul uploads them on YouTube. Amul saves all its content creation money. They just edit & upload the video. Chefs also get the opportunity to be featured on a 4 lac subscribers channel so it's a win-win game.
In my opinion, this is the best marketing strategy of Amul which everyone should learn from. Amul got millions of eyeballs by just uploading these other's created videos.
---
Popular Marketing Campaigns of Amul Dairy Products
1) #CelebratingDrKurien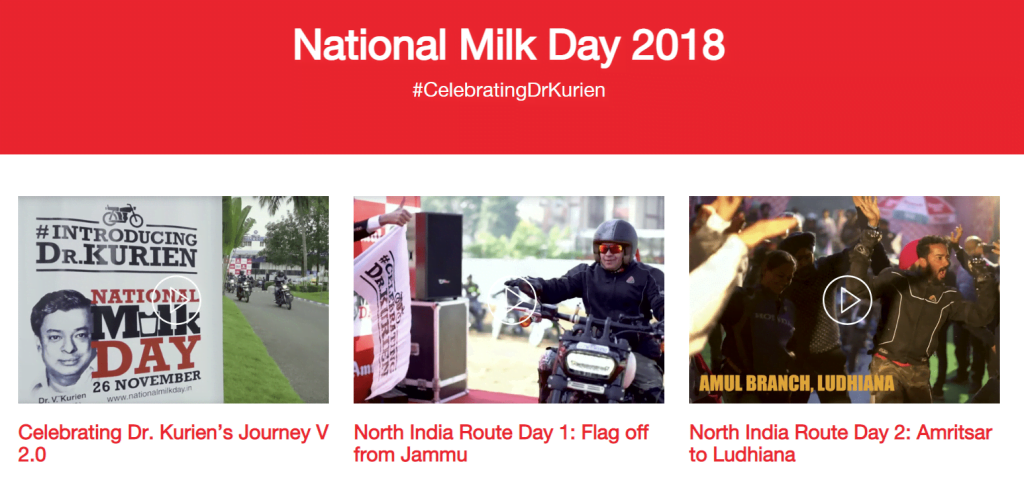 The campaign was started in 2018 as a tribute to Dr. Kurien. It was a bike rally from Jammu to Gujrat. During the campaign, bikers met those farmers whose life has been impacted by Dr. Kurien. It was a very big campaign.
This was a very successful campaign. Thousands of people from different villages met these bikers. All national news channels covered this news and Amul got free marketing without paying a single penny. This was a good marketing strategy of Amul in rural areas.
---
2) #amulrecipes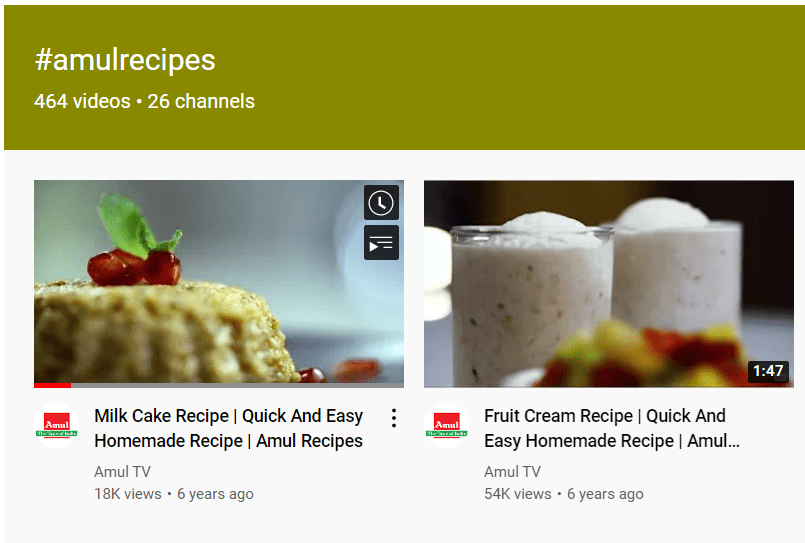 Amul started this #Amulrecipes campaign on YouTube. They created more than 300 videos during the campaign. Today Amul has more than 4 lac subscribers on its YouTube channel. Amul got a huge subscriber gain after this campaign. Many of its videos have lakhs of views. During the video, Amul is using their own products. Every recipe needs a dairy product so Amul started creating these recipe videos to showcase their products.
---
3) Amul Classics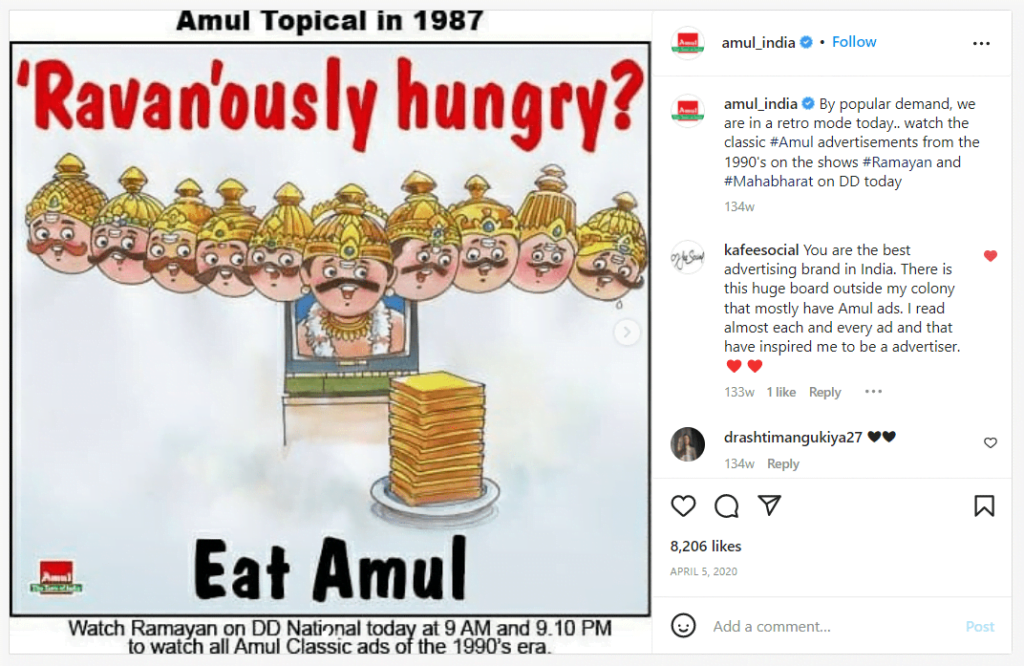 This campaign was started during Covid-19. After a long period of time, Doordarshan started showing Ramayana and Mahabharat on Television. At that time, people demanded Amul to telecast those 90s ads again. These ads were shown on Television as well as social media platforms.
On YouTube, Amul created a playlist of 88 classic ad videos. These videos got thousands of views. Amul follows genius marketing strategies, their marketing doesn't feel like marketing" because people love their ads and creativity.
---
Conclusion
Here we end our case study on Amul's marketing strategy. Amul is one of the most loved brands in India. Their ads are so attractive that nobody can ignore them. In this case study, we have covered almost all marketing strategies of Amul. At the end of the article, we have also mentioned the names of Amul's popular marketing campaigns.
During our 4 month digital marketing course in Jaipur, we teach hundreds of case studies to our students. You can also join our course to learn more marketing strategies of Amul. Thanks for reading. Do share this Amul case study with your friends & family.
Which marketing strategy of Amul, you loved the most? Tell us in the comment box.
---
FAQs Related to Amul Marketing Strategy
What is the best marketing strategy of Amul?
Amul sells all its product under one name i.e Amul. We can get Amul Ghee, Amul Dahi, and Amul cheese. Everything is available under one brand name. Whenever Amul launches a new product in the market, it starts selling with no advertising because people trust Amul. This is a wonderful marketing strategy of Amul which I loved the most.
What is the business model of Amul?
Amul's business model stands on the 5 pillars explained above in this article. Amul is not a company, it's a cooperative society so the milk producers also get a good income by selling milk.
Who Plans new marketing strategies for Amul?
Amul has an internal marketing team. They plan and execute marketing strategies regularly to test the new products.
What is the marketing tagline of Amul?
The two most famous marketing taglines of Amul are Amul Doodh pita hai India" and "The Taste of India".