Every person in India is familiar with the word Jio. Do you know the reason behind the popularity of Jio? It's their marketing strategy. Today, we have brought to you the Jio marketing strategy. We will also tell you about some secret marketing tactics Jio used.
Jio had played a very important role in digitalizing India. We call India, a digital India its all because of Jio. We can't imagine the growth of industries like digital marketing without Jio. It's our pleasure to share the marketing strategy of Jio. But before moving towards the marketing strategy, let's know about the company.
About Jio
Jio or Reliance Jio Infocomm Limited was started in 2007 by Mukesh Ambani. Currently, they have 413.01 million telecom subscribers in India. Jio sim was first publicly available in September 2016. After the sim launch, Jio offered free data & calling from September to December.
After listening to this news, Everybody got crazy and bought the sims. I remember at that time everyone was having 2 sims in their smartphones. We have saved numbers like this – Rahul, Rahul Jio, Tina, Tina Jio.
Jio is the brand behind digital India. Jio's 4g services are available all over India. Today millions of Indians can get an education using Jio's cheap internet. Before Jio, every telecom operator was charging a hefty amount but after Jio's entry, we all are getting internet at cheap prices.
Reliance Jio is not just limited to selling sims & data plans. They also create products like Jio broadband, Jio wifi, Jio T.V, etc. Now Jio is planning for 5G & 6G in India. They are also planning for Satellite services where people will get internet through satellites.
Bonus Read: Marketing Strategy of Amul
Reliance Jio Target Customers (Two Categories)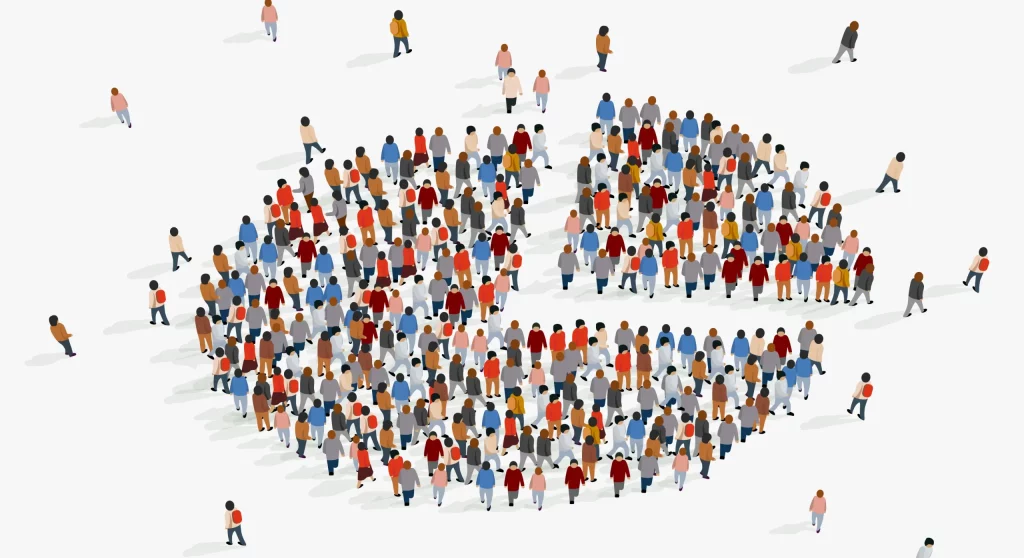 Jio target the mass market. A person who wants an affordable internet data package buys Jio's subscription. We have divided their target customers into two categories.
Price Conscious
The majority of people come into this category. These people want internet data packages at affordable prices. If Jio won't provide them the affordable rates then they can also shift to other networks. It is a price market game. Who sells cheap, gets more sales.
Network Conscious
These are the people who want high speed internet and a good network. Let me tell you this with an example. If you visited a village and experienced network issues then you might change the network provider. Another example is if you are a gamer and you need high speed internet. If Jio can give you high speed internet then you will shift to Jio. So this is the second type of target customer of Jio.
Reliance Jio Marketing Strategy
Here are some top marketing strategies used by Jio. You might have not heard about many of these strategies so let's deep dive into Jio's marketing strategy.
1) Social Media Marketing Strategy of Jio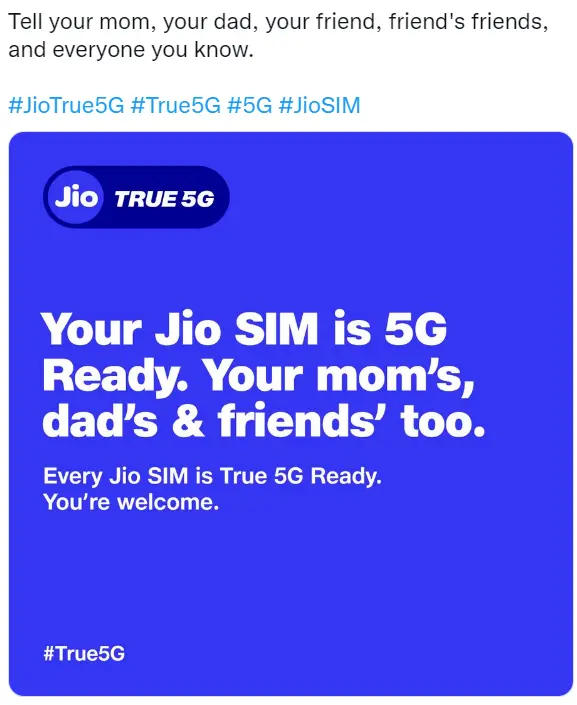 Jio follows a simple yet powerful social media marketing strategy. They create engaging posts which attract more eyeballs. The majority of their posts are promotional on all social media platforms.
In our opinion, Jio needs to work more on its social media strategy. They just post about the new deals & offers over there. Sometimes you can also see posts related to upcoming events or festivals.
The one thing which you can learn from Jio is their customer support on social media. Their customer support representatives reply to the customer's complaints very fast and help them resolve their issues.
| | |
| --- | --- |
| Facebook | 2.4 Million Page Likes |
| Instagram | 1 Million Followers |
| Twitter | 848.4K |
| YouTube | 3.14 Million Subscribers |
2) Short Emotional Ads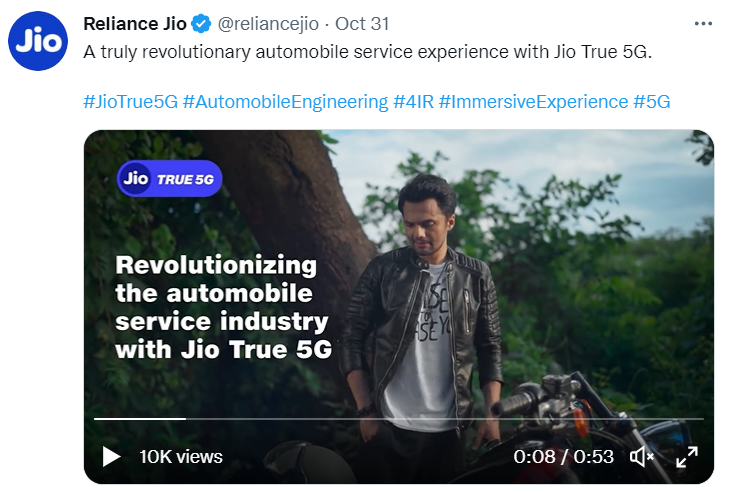 One of the best marketing strategies of Jio is short emotional ads. These ads attract the audience emotionally. The above image is a short ad film for the upcoming Jio 5G. In this ad film, they have taught how Jio 5G can revolutionize the automobile industry.
The Jio team has created some more ad films displaying the benefits of Jio 5G to different industries. You can also apply this Jio marketing strategy to your business.
3) Marketing by Showing Big Purpose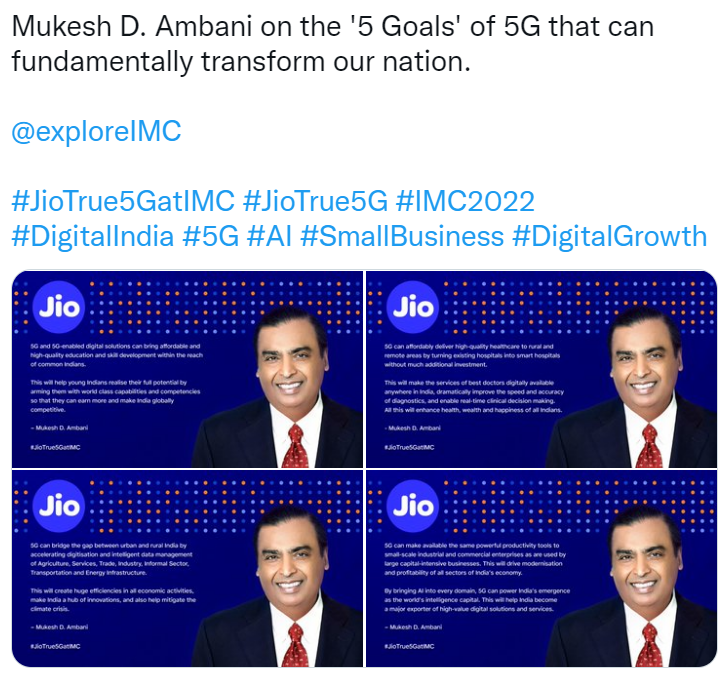 Many people were against the 5G launch that's why Jio has smartly used this marketing strategy. By showing this, they are telling people that we are not launching 5G for money but for the country's benefit. It is a wonderful marketing strategy of Jio. Many leaders use it.
4) YouTube Marketing Strategy of Jio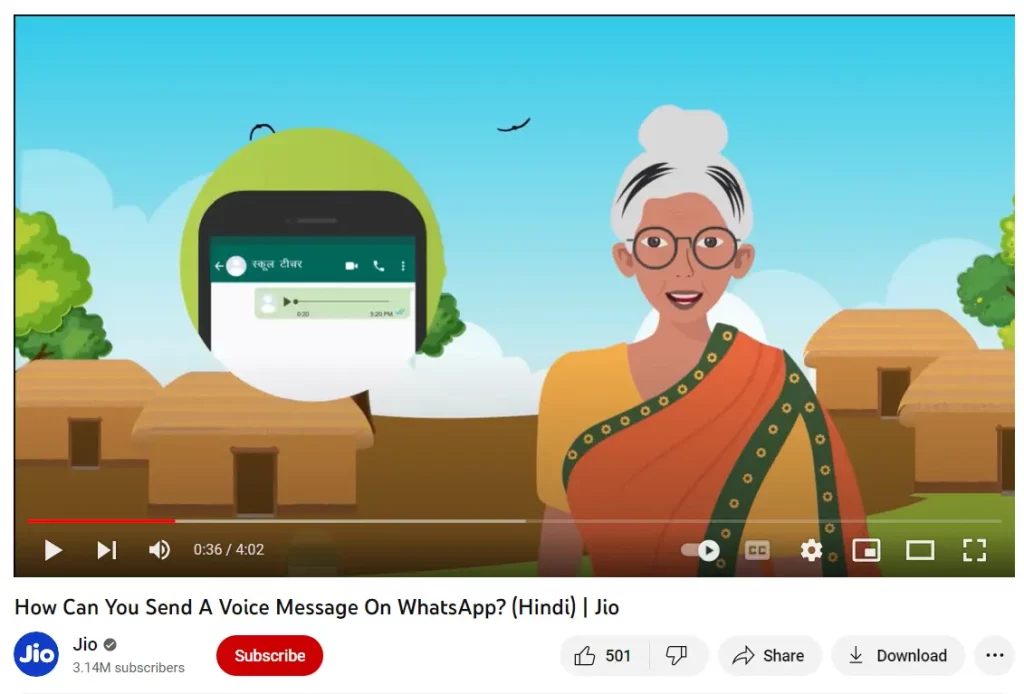 Jio follows a great marketing strategy on YouTube. They have 3.14 million subscribers on the channel. Jio creates this type of informational content teaching people the most basic ways of using the internet. When people will know how to use the internet then they will definitely buy internet data plans from you only.
5) Smart Postpaid Plans Strategy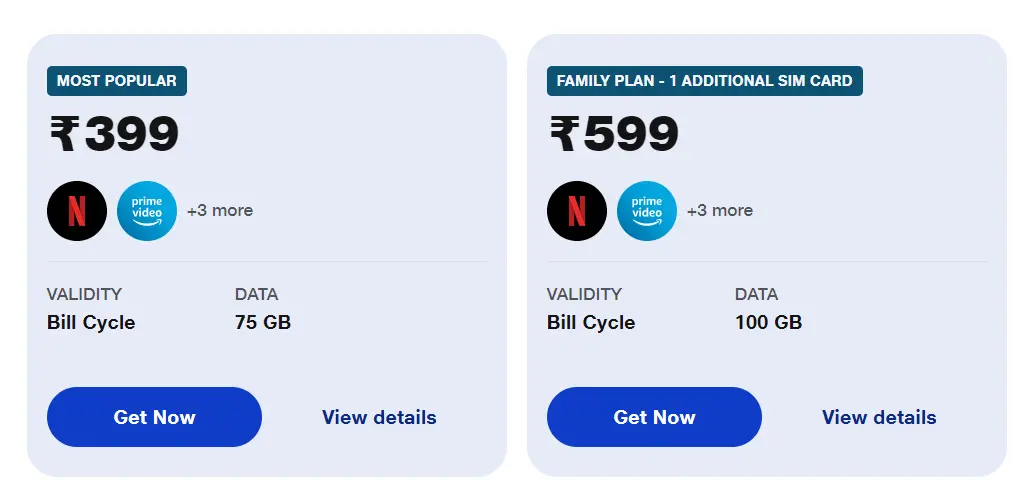 Jio curated their monthly & yearly plans in such a way that it automatically sells. They know what customer wants that's why many times they offer Netflix & Amazon Prime membership for free. This is also a marketing strategy of Jio where they collaborate with other platforms like Netflix & Amazon Prime.
Popular Marketing Campaigns of Reliance Jio
Jio had done many successful campaigns. Most of its campaigns are related to cricket. All of these campaigns are organized at a big level. These campaigns will not give direct sales to the company but they are best for branding purpose. Let's know about the top 3 most popular marketing campaigns of Jio.
1) Get Jio Sim Home Delivered For Free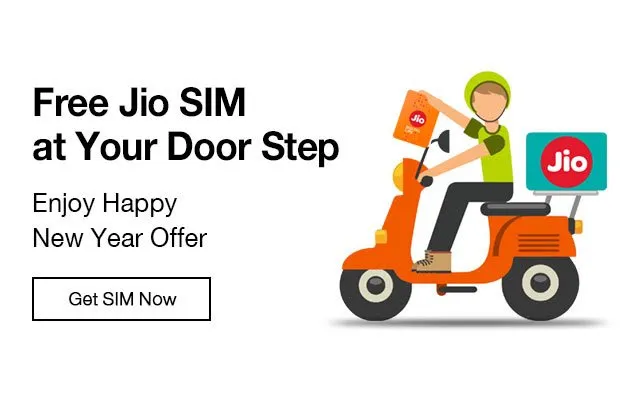 Jio delivers the sim at home for free. This is Jio's marketing strategy. Before Jio, none of the brands was doing this. Now a person does not require to go anywhere. Jio understands the basic nature of human beings. They know people don't want to go anywhere, they need everything at their doorsteps. Jio started this service and it got them thousands of customers. The acquisition cost of these customers is very less but the future value will be amazing.
2) 'Cheer for India'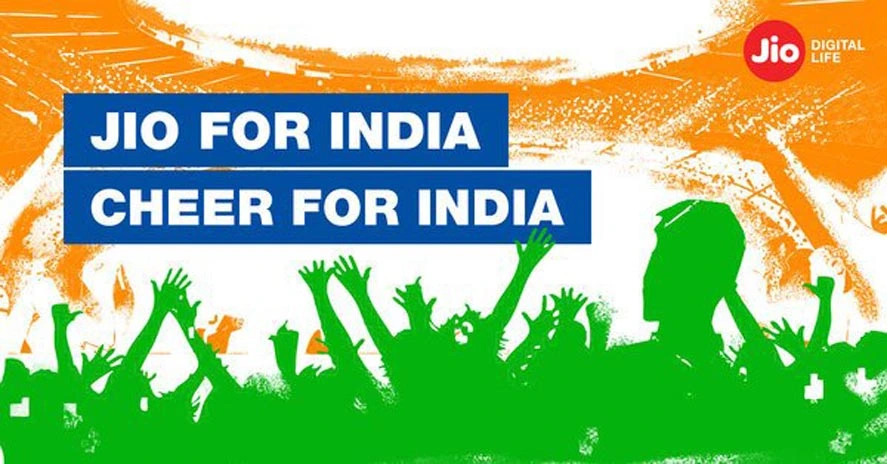 This was a successful marketing campaign ran at the time of the India vs Pakistan match. The campaign reached 90 lakh cricket fans. Jio spreaded this message through notifications and ads. As an Indian brand, Jio never misses the opportunity of marketing through events.
3) Cricket Play Along Campaign in IPL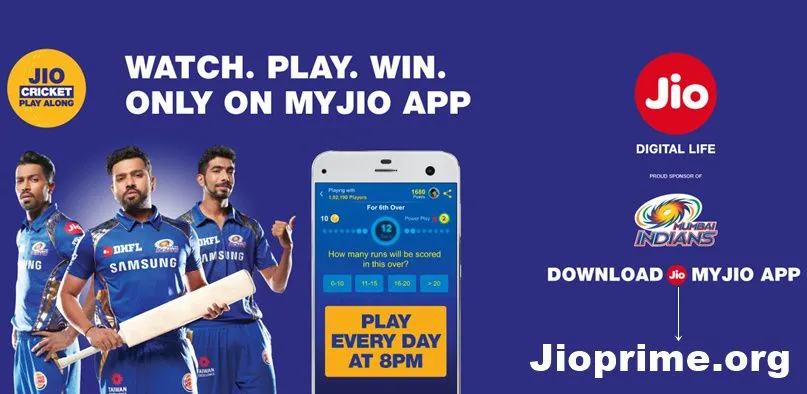 We Indians love cricket. Jio used cricket to develop a winning marketing strategy. In sept. 2020, Jio launched a campaign called "cricket play along". In this campaign, you need to predict the next ball's results. If you predicted correctly, you will win some points.
It was a fun game. Thousands of people played it. Jio was also awarded by GLOMO awards in 2019 for this great marketing work.
Conclusion
Here we end this case study about Jio Marketing strategy. We have shared all marketing strategies used by Jio. Jio is a dominant leader in the market. Now they preparing for a mass level 5G launch. In the future, you will see much better marketing strategies of Jio. Thanks for reading.
About Quibus Trainings
Quibus Trainings Institute offers the best Digital Marketing course in Jaipur with 100% placement assistance. The founder of Quibus trainings and the course instructor, Mr. Paramveer Singh has an experience of more than 10 years in this field. He has taught 3000+ students and helped them build a successful careers in Digital Marketing.
The modules covered in the Digital marketing mastery course are SEO, PPC, Google Analytics, Social Media Marketing, Email Marketing, and Blogging. In addition, you will also receive 10+ certificates from Facebook, Google, Hubspot, etc. So, join our 4-month Digital marketing mastery course and become job ready.