You must already understand the need of having a Facebook business page by now. As Facebook says, "businesses will be better in a connected world". It is vital to have an online presence for any business in order to stay connected with the ever-growing consumer base. According to statistics, there are more than 2.4 billion monthly active users on Facebook and this figure is a lot more than China's current population. Shocking, isn't it?
Facebook Marketing (94%) is most popular amongst marketers followed by Instagram (73%) and Twitter (59%), according to a report by Social Media Examiner.
Looking at these numbers it seems that there is a huge scope of getting business by building leads through Facebook. So ignoring it is possibly a bad idea. Facebook is crucial for your businesses success and awareness online. Learn more about Facebook marketing in a 4 month of live practical digital marketing course in Jaipur.
Now we know how important Facebook is for businesses, we must also remember that only having a profile doesn't work. There are a lot of options Facebook provides to the page admins by making it easier for them to customize the page as per the requirements.
It is essential that every marketer must know how to take advantage of these tools to maximize the rewards that one could get through Facebook for a business.
Let us go through some extremely useful tips that can help you in optimizing your Facebook business page for increased brand awareness and sales leads.
1. Complete your page information
Always keep in mind to fill in completely, all the basic details about your business. The audience needs all the relevant information about your business and if you fail to provide it to them, it causes a lack of trust and the audience starts searching for alternatives.
Carefully study and understand which field requires what answers to be filled. For example, the 'short description' field needs a one-line answer which acts as your business tagline. So don't try to fit in your entire story here as there's a separate column for it.
This helps you in showcasing what your brand stands for and gives your audience a chance to get associated with you even outside of Facebook.
2. Register your vanity URL
Whenever you create a Facebook page, you're assigned a dynamic URL, which looks similar to this,
www.facebook.com/QuibusTrainings/5478569871236.
See how clumsy it looks!
And how difficult it'll be for your potential customers to recall this URL.
So, here comes the need of a Vanity URL, which is short, clean and custom made, containing just your business' name.
It looks like this, www.facebook.com/QuibusTrainings, and helps you in increasing your brand's awareness, visibility and also provides you SEO benefits due to its high authority.
So, what are you waiting for? Claim your vanity URL right now.
3. Manage the tabs wisely
Facebook allows you to display a number of tabs under the cover photo of your business page. They can be 'likes', 'reviews', 'photos',' videos', and much more. 'You also have the liberty to organize the tabs as per your need and priority.
If you have any apps in the tab section, that you don't use anymore, go get rid of it and give your business page a new look which totally resonates with the business' personality. Remember to keep only relevant tabs, that the user is most likely to click.
4. Creative use of graphics
Photos generate more engagement than text posts, says research. If you have still not incorporated the use of high-quality images in your social media engagement strategy, it is high time now you should immediately start doing it. Optimizing your photos with relevant text to describe it and creating useful links along with it is the need of the hour.
Rather than using dull, boring and bland images, develop a habit of posting interactive high-quality graphics, along with a caption that makes the user click on it.
5. Use insights for better performance
Facebook insights is a very useful tool to gauge the performance of all the metrics of your Facebook page. It gives your deeper understanding of user interaction on your page. You can even get an idea of the best time of the day to post content, which type of content is more popular among the users and also the reach of your posts and page.
Facebook gives you a large amount of data from the patterns of user behavior but it is up to you, how you use it for your page's maximum performance subsequently.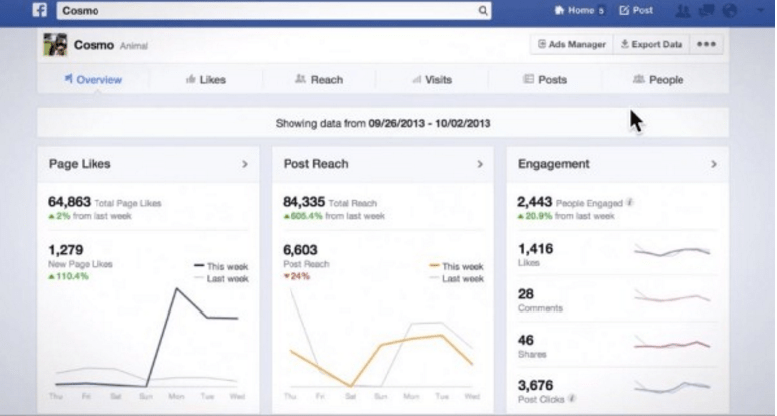 6. Cater to a wide range of audience
With the information you get from studying Facebook insights, you can get an idea about the demographics, gender bracket, language of your audience. This gives you a chance to connect with people from every corner of the world.
Posting content in different languages according to your audience is a great way of engaging them as well as going international.
7. Add 'pages to watch'
Facebook provides a great option to pages who have at least 100 likes on their pages. This tool is called 'Pages to Watch', using which you can add at most 5 competitor pages in your list and track your progress as compared to those pages.
Metrics like total page likes, page engagement, etc can be viewed through this tool. If you want to know where your page stands and want to make it even better, hold on to this tool.
These were the top 6 tips that will help you in optimizing your Facebook business page. Apart from just sharing posts, you must always keep looking for ways to enhance the entire experience for the user who comes on your page. This will set you apart from your competitors.
8. Engage your Audience through Facebook Messenger
Do you know? There are 1.3 billion Facebook Messenger users globally, and the number is expected to grow up to 2.4 billion by 2021.
Can you imagine how vast the opportunity you have to interact with your customers personally?
So if you haven't already set up your Facebook Messenger for business, do it right now!
Facebook Messenger helps you to collect valuable customer information, allows you to send personalized messages, and even you may set up instant replies and greetings text. So, whenever someone commence a chat with your page, a greetings text is sent to them automatically.
You can also use Facebook Messenger to provide customer care and don't forget to manage your response time.
If you wisely utilize the Facebook Messenger, it will help you increase the traffic and visibility of your page.
Share with us, how you manage your Facebook business page. We are eager to listen to you. Do share this article ahead.
Check out these interesting articles that you wouldn't want to miss at any cost.