Some people believe that a resume is just a document for an interview call. While it's not true. Along with the interview call, it is a tool that effectively tells your abilities, experience, efficiency, and achievements in front of your prospective employer. A good digital marketing resume for fresher introduces you to the employer and impresses them with your career snapshot.
Therefore, a digital marketing resume is more than a document to get new jobs, opportunities, and interview calls as it presents you.
From the resume itself, the interviewer selects a suitable candidate from hundreds of crowds. You can also say that resume is the first stair to entering into an organization. It gives the candidates an opportunity to talk face-to-face with recruiters. And because you are applying for a digital marketing job, hence, the recruiter has more expectations from you.
Still, most of the candidates who have learned digital marketing skip this point. There are thousands of resumes a Digital Marketing employer receives. He may probably get annoyed if you haven't put your resume format in sequential order or done some gross spelling mistakes! No recruiter will waste their time reading the long paragraph or long job description. So, you have to make it effective and eye-catchy. You need to be very specific with the perfect format, In brief, you can say your resume should be 'short & sweet'.
In our digital marketing course in Jaipur, we also teach our students how to make effective resumes that can help them get their dream job.
Bonus Read: Best digital marketing books [Read these books to get a high-paying job]
---
Download Digital Marketing Resume for Freshers (3 Samples)
Here are some examples of Sample resumes for Digital Marketing freshers. This will help you get some idea of writing an impressive resume-
Digital marketing resume for fresher – Free Sample 1
Download Now
Digital marketing resume for fresher – Free Sample

2
Download Now
Digital marketing resume for freshers – Free Sample

3
Download Now
To get selected for the interview, read our digital marketing interview questions.
Sample 1: SEO Executive
Before creating a resume for an SEO executive, let's understand the job description. An SEO executive focuses on increasing the traffic of a website by following the search engine best practices.
Important tips while writing an SEO executive resume,
Add your qualification, educational background, and specific training in SEO (if done)
Mention results. In SEO, results speak more than any certification. If you have worked on a website/blog and achieved desired results. You can mention that. This will separate you from other candidates.
Add relevant SEO skills – Keyword research, On page SEO, Off page SEO, Backlink Outreach, international & local SEO, Google ranking factors, etc.
Tell about your past experience with SEO. You can also mention the names of projects you have done in past.

Important point

– Only give the correct information because the information will be double-checked during the interview and no company wants to hire a dishonest person.
You can use the below template as a resume by filling it in with your personal details. If you are using a photo then it's always recommended to use the latest picture.
We suggest you to read our SEO interview questions before going for an interview. The resume is not enough, you need to prepare interview questions also.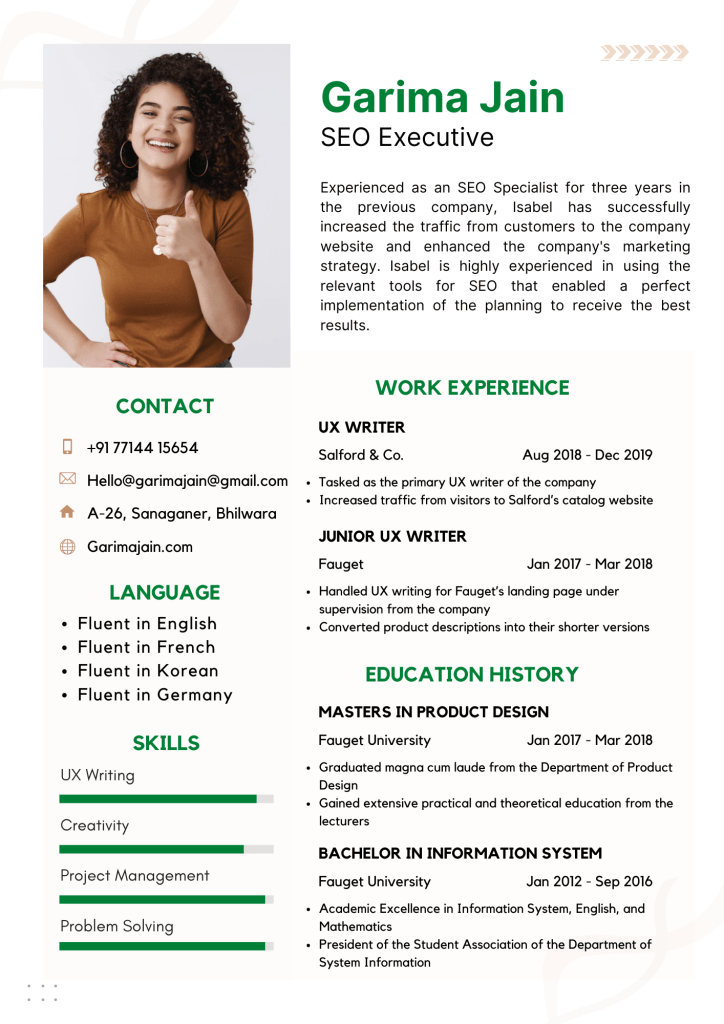 Click here to use this template – Canva
Sample 2: Content Marketer
The best form of marketing is content marketing. The demand for content marketers is rising faster than any other job profile. The job of a content marketer is to plan content for a brand on various social media platforms as well as search engines.
Important tips while writing a Content Marketer resume,
Share your past experience in content creation and marketing. Also tell the project name, if any.
Tell about your technical as well as soft skills (communications, leadership, team building skills)
Mention your education qualification.
Here is an example of a content marketer's resume. Use this by filling your personal details.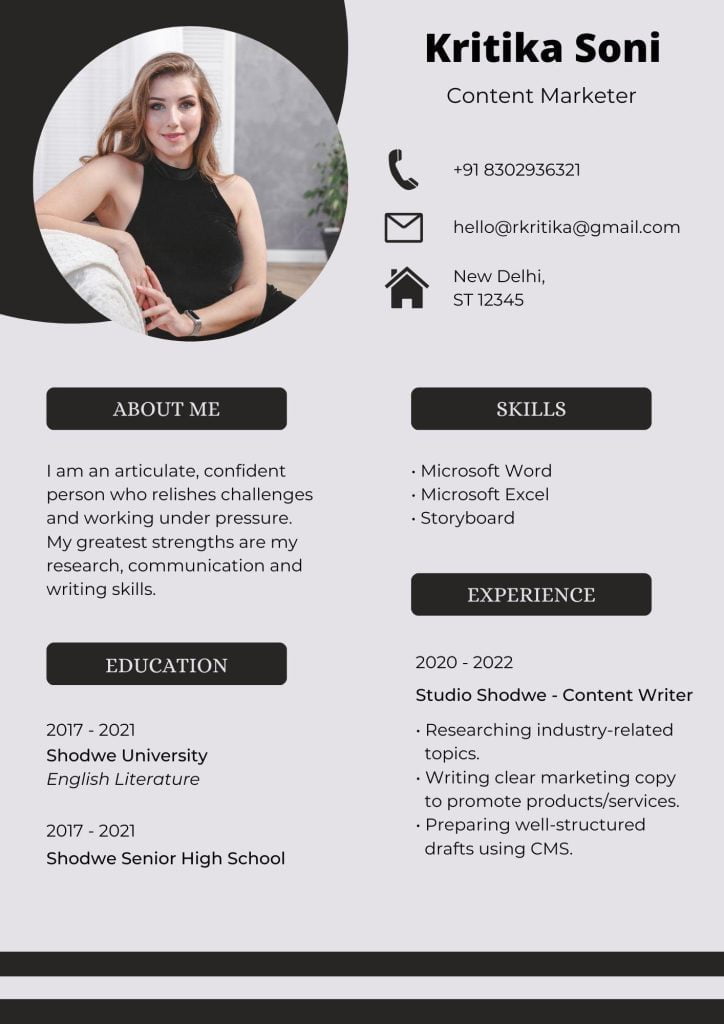 Click here to use this template – Canva
Sample 3: Social Media Marketing Resume
The job role of social media marketing is to create engaging content on social media. This content helps in increasing brand awareness. Today every person spends hours on social media platforms. No brand can miss this opportunity to advertise its product in front of this large audience.
Important tips while writing a Social Media Marketing resume,
Mention your social media handles in the resume.
Add your educational background and the technical skills you have.
Add your career objective and work experience.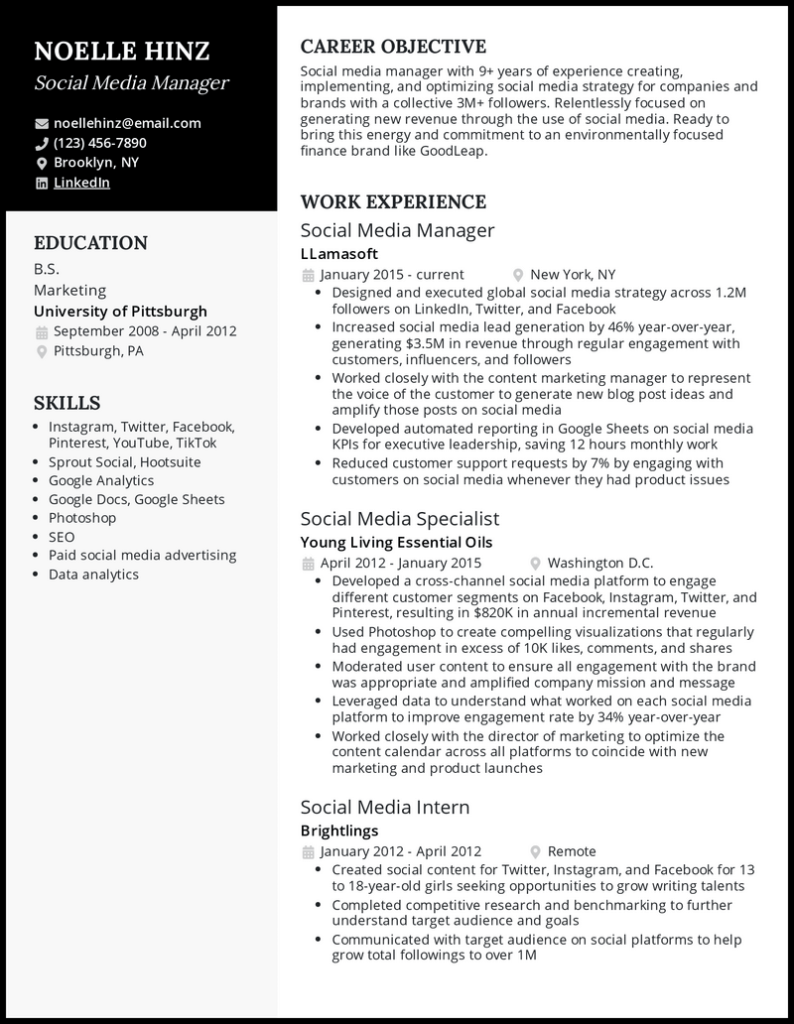 Sample 4: Email Marketing Resume
The job role in email marketing is to nurture cold leads into paying customers by sending them the right emails. These are problem-solving and helpful emails.
Important tips while writing an Email Marketing resume,
Tell about your professional work history.
Mention your technical, soft, and additional skills.
Share your educational background.
You can also share your technical knowledge about the tools, funnels, and marketing techniques.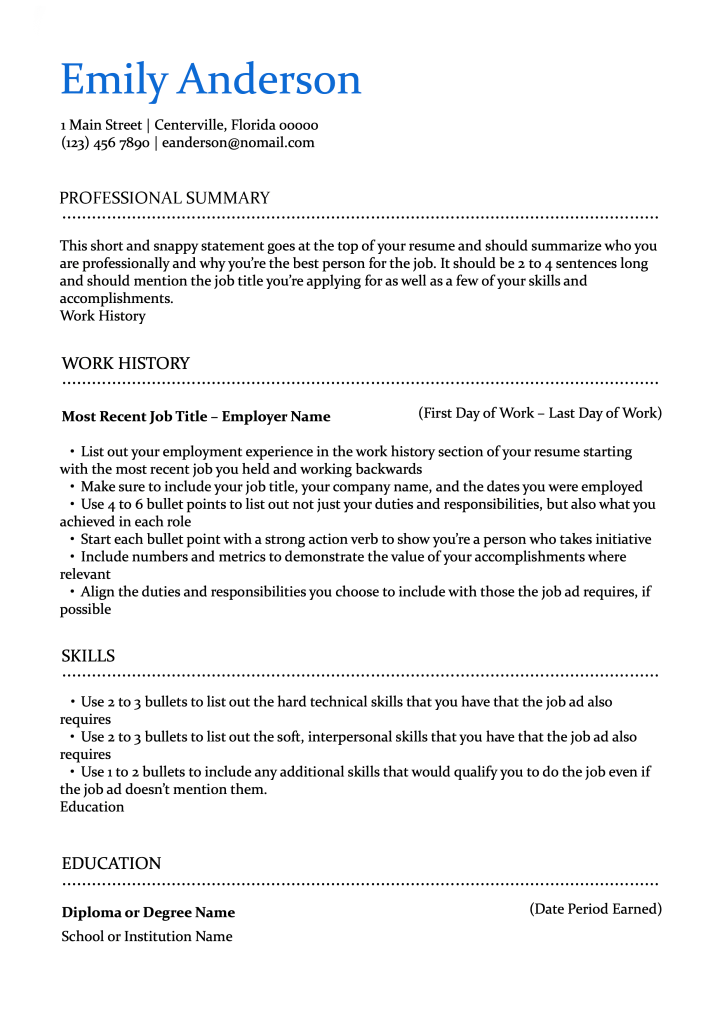 What's the trick to the perfect digital marketing resume?
Follow these steps to make your resume persuasive and unusual from others:
1. Make your resume standout by adding metrics
Numbers play a crucial role in the world of digital marketing, but not all numbers carry the same weight. To grab the attention of recruiters, it's important to highlight metrics that demonstrate your outstanding achievements.
While it's often recommended to include metrics, it's crucial to identify the ones that truly make a difference.
Instead of just mentioning that you scheduled four posts, newsletters per month or increased traffic on a website, focus on accomplishments like driving a remarkable 25% increase in email conversions through interactive campaigns which have set new industry standards or increased traffic to a website by 25% using methods like link building and on-page.
2. Align your resume according to the company's goal
Customizing your resume to fit the company's specific needs regarding digital marketing is significant. Instead of just providing a generic list of skills and specialities, take the time to understand the company's main objectives.
Research their marketing channels, examine their recent job postings and uncover their immediate priorities in digital marketing. By aligning your resume carefully with these goals, you go beyond being a digital marketer and become a strategic partner.
3. Design your resume layout to catch the recruiter's attention
Use a captivating format and layout to grab the attention of recruiters and highlight your strengths. Combine headings, bullet points and customized sections to make it easy for them to scan through.
Use bold text to emphasize your achievements and strategically use white space and colour to guide the recruiter's attention.
7 Tips to Create a Better Digital Marketing Resume for Freshers
Most people do not know how to make a good resume. Creating a resume is an art. If you have all the qualities and qualifications, which are necessary for a Digital Marketing job but you are not able to tell this through your resume, then all your qualities and merit are useless. The interviewer will put your resume in the dustbin without reading it.
However, here are a few tips for digital marketing resume for jobs and also, how you can make your resume stand out from the crowd.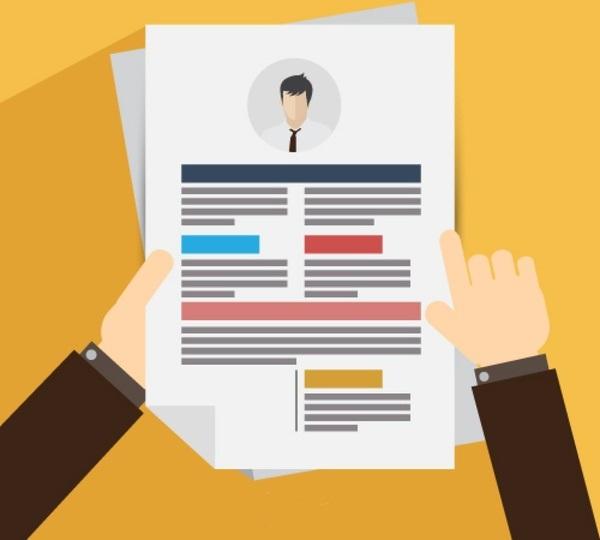 #1 Clean, Simple, and to the Point
Your digital marketing job resume must be easy to read and must be clear. It should be small, simple, effective, and professional. Do not write unnecessary things in your resume. The clean and to-the-point resume helps you appear as the best out of the crowd. So, here are a few things you can do to improve the formatting of your digital marketing executive resume.
Make sure that the font type is consistent and clean.

Highlight your introduction, your experience, digital marketing training, and your message in the CV.

Avoid lengthy resume or messy design elements as it distracts the reader.

Use bullet points wherever you think it's going to be lengthy.

Use bold headings.
#2 Check Spelling & Grammar
There should be no grammatical mistakes or spelling errors in the resume. Wrong spelling in a digital marketing CV puts a very bad impression on the interviewer, as digital marketing solely depends on content marketing, hence, you can't afford to make spelling mistakes. In short, all the spellings must be correct, your grammar should be flawless!
Moreover, use clear sentences so that your core message can be conveyed immediately.
#3 Write a Winning Objective Message
Your purpose statement or objective is the core of your digital marketing CV. So don't just copy and paste it from others' resumes. Try to make your own personal tagline, it is not tough for a digital marketer though. As it is your first impression on the recruiter it must be best. So, be a little creative and smart too.
#4 Create a Solid Online Presence
As we know Digital Marketing is all about showcasing products or services. Many enterprises or digital marketing agency believes that if you can't market yourself, then you also cannot market the product of the company!
So, take the opportunity to sell your abilities.
#5 Show Your Experience
How can one believe that you are a good analyst/ content writer/ SMM expert? So, while writing your digital marketing resume, it is important to mention your successful projects, work, and achievements in your previous organization/s if any.
This will give a positive impression and proof of your firm grasp of the knowledge about the practicality of the enterprise.
#6 Include In-Demand Digital Marketing Skills
Adding trendy skills can to your resume will make it more convincing and unique from others. You can also add a certificate of the skills you have learned. This will leave a significant impact on your recruiter.
Top in-demand digital marketing skills are:
Digital Marketing
SEO
Link-Building
Social Media Marketing
Google Analytics
Google & Facebook Ads
Copywriting
Content Marketing
Email Marketing
Conversion Rate Optimization
#7 Make Sure Your Digital Marketing Cover Letter Is Impressive
You have a perfect digital marketing resume, but your work here is not yet done. Now you need a cover letter that can grab the recruiter's attention.
To make your cover letter appealing:
The first thing you can do is address your recruiter's name and the job title in your cover letter.
Next, you can include your qualifications, years of experience, and top skills.
You can add more about your achievements and skills.
The last step is to end your cover letter with a solid call to action.
Add Other Sections for an Effective Digital Marketing Resume
What more can you do to enhance your digital marketing resume?
1. Certifications
Adding certifications can significantly improve the appearance of your resume. By adding certification to your resume, you are showing your recruiter that you are a person who is keen to keep learning new things.
2. Languages
Knowing more than one language can be a plus point for your resume and your recruiter. Adding another language to your vocabulary gives you an advantage. You can conduct keyword research and make landing pages in other languages. This makes you an exceptional candidate.
3. Volunteer Work
If you have done anything free of cost, you can add that to your resume. You can add this point if you don't have any work experience to show.
Skills that recruiters look for in a resume
These are some skills that are trending in the digital marketing field. You must conquer these skills to enhance your resume and improve your chances of getting picked.
Data analysis
CMS (content management systems)
Paid ads & PPC campaigns
Digital media campaigns
SEO
Mobile Marketing
Curiosity
Conversion rate optimization
Trends analysis
Email marketing campaigns
PPC
Social media
Strategic planning
User experience optimization
Wrapping Up
So these were some samples & examples of digital marketing fresher resumes for different job profiles. Hope these CVs for digital marketing fresher will help you get a job.
Also, tell us in the comment section if you have any tip/s for the Digital Marketing resume for freshers or ask us for any further help in making your resume.
FAQs
Q. How do I write a resume for digital marketing?
Ans. To write a resume as a digital marketer:
The first step is to introduce yourself Clearly.
The second step is to include your work experience.
The third step is to include your educational background.
The fourth step is to showcase your certifications and skills.
The fifth step is to tailor your resume to the job you are applying for.
The last step is to do proofreading.
Q. How do I make a resume for a digital marketing fresher?
Ans. To make a resume for a digital marketing fresher, follow these steps:
Keep your resume clean, simple, and to the point.
Check Spelling and grammar mistakes.
Write a Winning Objective Message.
Create a Solid Online Presence.
Show Your Experience.
Include In-Demand Digital Marketing Skills.
Make Sure Your Digital Marketing Cover Letter Is Impressive.
Q. What to put on a digital marketing resume with no experience?
Ans. If you don't have any experience to show on your resume, the best option is to learn and add some popular digital marketing skills.
Skills you can include:
WordPress
Search Engine Optimization (SEO)
Web Analytics
Google Analytics
Google and Facebook ads
Copywriting
Q. Can a fresher do digital marketing?
Ans. Yes, a fresher can do digital marketing. You can join a digital marketing internship and start your career.
Q. How to introduce yourself in a CV?
Ans. Use a captivating format and layout to grab the attention of recruiters and highlight your strengths. Combine headings, bullet points and customized sections to make it easy for them to scan through.