First, let us understand what does 'redirect' mean technically. Redirect is a technique which sends a visitor from one webpage to another, mostly because the page requested is not available because it is permanently moved to a new location.
301 redirect is a search engine friendly method of redirecting URLs, as it tells the search engine that the page has been moved and the search engine quickly indexes the new page.
When a user requests a URL and the server returns an HTTP status code 301 Moved Permanently, it means that the requested URL is shifted to a new location. The correct practice is to redirect the moved page to its new location so that the user never sees the error.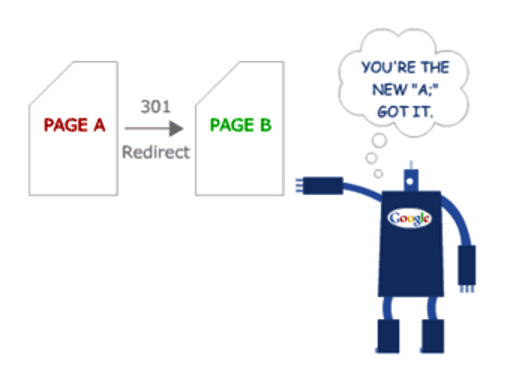 301 redirect is not only beneficial for navigation purposes but it also helps in SEO. Navigational benefits tend to a greater user experience while the major SEO benefit is in terms of preservation of link juice.
Yes, when you 301 redirect one page to another, it transfers the link juice, authority and relevance of the original page to the new one over time. Most people make the mistake of using 301 instead of 302 redirects (use to temporarily redirect) and vice-versa.
If you use 301 permanent redirects for a temporary page, you're going to lose all the valuable link authority and reputation of the original page for a page which is not going to exist for long.
Also, if you 302 redirect for a permanently moved page, you again lose the link juice that could have passed to the new location. So the next time you move pages temporarily or permanently, make sure you use the proper redirection method.
So, if you don't want to lose your valuable traffic due to careless redirection, better inspect your links using 301 redirect checker and check if your redirects are search engine friendly. Have a look at these useful redirect checker tools
We hope you find this information useful and the next time you redirect a page or a domain, you will keep in mind the need to correctly redirect it for ensuring a good experience for both the user and bots.
To learn more about 301 redirect & other status codes, how they impacts the website's SEO and much more, Join our digital marketing institute in Jaipur.
If you like our article, please share it with your other friends. Drop in your valuable feedback and comments below.
You might also like to enhance your knowledge, so here more articles for you.