Nowadays almost every consumer use the internet when researching local products/services". Due to increased smartphone usage and improving internet connectivity, users are shifting their local product search online.
SEO is a very elaborate process in itself and calling Local SEO a small branch is misleading as local SEO is much more than what meets the eye.
Local SEO is more geographical in nature, as it revolves around providing relevant search results in accordance with the searcher's geographical location, which organic lacks.
It is a boon for local brick and mortar stores who are looking to get found online and connect with the community in its vicinity.
Today all major search engines like Google, Yahoo and Bing provide users the option of starting a local business page which gets listed on the result page when a search takes place. Take up this opportunity to increase visibility and footfalls on your offline business and stay ahead of your competitors.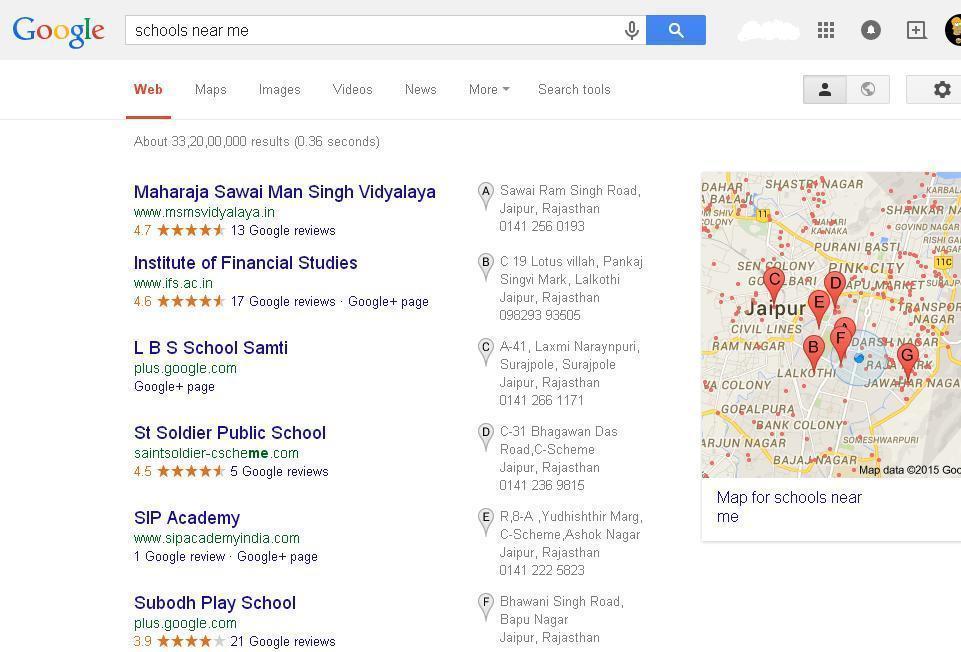 Google search result page containing local results
Find out the 20 best practices you can incorporate in ranking your business for local business SEO.
1. Optimize title tags
Include your prime keywords, brand name and location in the title tags of every page. Don't use the same keyword for each page.
2. Optimize meta description
Add all sufficient relevant keywords in the meta description field. If there is scope, add your location too.
3 Build local backlinks
Get yourself featured on local directories, press release and ask local bloggers to endorse you. In addition to local backlinks, you can follow our social bookmarking sites list to create high quality backlinks for your business.
4. Effective Content
Give to the point information in the content of your webpages, make them keyword optimized. Don't just stuff keywords.
5. Avoid duplicate content
Stay away from copy pasting the same content on every page, otherwise get ready to be penalized. Remember unique pages, unique content.
6. Include address
Make sure your business address flares on every webpage.
7. Optimize site for mobile
Follow best practices for optimizing website for mobile phones, as most people search local business on the go.
8. Great user experience
Make sure your website is easy to use and is user-friendly. Keep it simple.
9. Add NAP in schema markup
It helps to categorize and identify important information on websites, make sure you add your name, address and phone(NAP) in it.
10. Add events in Schema
Schema.org provides users an option to add details of events they are hosting. Helps in publicizing your events to a large audience.
11. Incorporate social signals
Show the visitors your brand's social popularity by including likes, shares, views and more from your social profiles on facebook, twitter, etc.
12. Display reviews
Showcase the reviews your users have given you, on your webpage to make a positive impact.
13. Get listed on search engines
Set up local listing account on Google, Yahoo or Bing and connect with users directly who are looking for you.
14. Ask for reviews
Request users to leave reviews on local listing pages, and increase your exposure and relevance for google.
15. Don't forget AdWords
Start advertising your business through AdWords for instant visibility and generate leads.
16. Use ad-extensions
Leverage ad-extension feature of Ads to display your product prices, discounts and your phone number.
17. List in business directories
Don't forget to list your business in reputed online business directories where users come to search for products and services locally.
18. List business correctly
Don't kill your chances to get leads by listing your business in a category other than yours.
19. Separate listings for multiple locations
If you offer services at multiple locations locally, make sure you place separate listing for them. It increases your chances to rank on SERP.
20. Publish content
Never give up on content marketing, consistently provide the users with great quality content and get ranked high up in search engine results.
I hope the useful tips will help you in making a great local SEO strategy for your business. Make sure to include each one of them in your plan and get ahead of your competitors. If you want to learn local SEO in depth, join our digital marketing course in Jaipur.
Give us some more time and read these powerful articles too